Sydney to Vienna and Vienna
Dec 13, 2018
To be entirely accurate, Cheryl and I are on a 7 week holiday in Europe (If the UK still constitutes being part of Europe). I will be breaking up my report into sections. This report will cover three days in Vienna followed by the cruise from Vienna to Nuremberg. Later reports will be posted covering London, Cornwall, Devon and Southampton.
What you get when you travel from east to west is a day that's around 36 hours long. That can provide justification for all sorts of odd behavior.
The flight from Sydney to Doha was the longest leg of any journey we have ever made …. 15 hours. As we departed the aircraft in Doha, I suggested to Ches that I expected to get an excellent cup of coffee, being that the middle east is the origin of coffee. Barely into the terminal and I came across Starbucks, and then near our next departure lounge, Jamocca. Actually the Jamocca wasn't bad but what possessed them to allow a Starbucks.
At 7.30 am we took off again for Vienna. Ches had donuts and Baileys Irish Cream for breakfast. She argued that it was really 5.30 pm. I considered the Cognac but couldn't even justify that if it was 5.30.
We arrived in Vienna at 11.30 am local time to an overcast day and -1c. I'd chosen the Novotel beside the main railway station in Vienna, because there is a train that runs from the airport to the city. At -1c and after 24 hours in transit, we opted for a taxi instead. Probably not the best option as the traffic entering the city choked on 10,000 Glaswegian Rangers fans arriving for a game against Vienna.
By the time Ches had had a shower and changed, it was 2.00 pm and given that the sun sets at 4.00ish, we decided we wouldn't venture to the center of town. We definitely needed a walk however. Who'd of though it, leave the hotel, take a left turn, another left turn a right turn and another left turn and what do we find? The Belvedere Palace. Vast gardens and the upper and lower palaces were quite a surprise and even more so, a "Christmas market".
I couldn't help but reflect on the fact that both the Belvedere Palaces and Blenheim Palace in England were built by their military chiefs at around the same time and designed to celebrate great victories. Prince Eugene had several major victories against the Ottoman Empire and the Duke of Marlborough (John Churchill) defeated the French and Bararians and thwarted their attempt to control the old Spanish posessions in Northern Europe. Both Palaces aimed to match Versailes and were built in the early 1700's.
By the time we walked through the gardens to the upper palace, our hands were frozen … even with gloves on. The Christmas Markets are set up along the front of the Upper Palace. Even though our river cruise is to take in the Christmas markets along the Danube and Main-Danube Canal, I didn't know what to expect. Yes, there are stalls selling Christmas decorations and clothing but also lots of stalls selling food and crafts, just like markets everywhere in the world. It's just with a Christmas theme.
We did a circuit of the market to get the lay of the land. As almost all stands only took cash, we then had to find an auto teller and withdraw euros. By this stage, I'd removed my gloves to take some 50 photos with my phone. I'd left my camera at the hotel in the belief that there wasn't going to be any photo ops. My fingers were freezing, so I bought a Teufelsgriller Hot Dog. A spicy sausage inserted into a hollowed out bread roll with tomato and mustard sauces. Ches went to another stand and bought a hot alcoholic apple drink and an Orange/Rum drink for me. All the stalls selling hot drinks serve them in mini steins. We paid a 4euro deposit each of the steins which was refunded when we finished our drinks. We also shared a massive shortbread (much more cakey than Ches's shortbread). Finally we bought some pastries to have for dinner and a cone of fried shaved potato. Like crisps, the potatoes are shaved with a fine peeler and fried in long strips, that curl up into clumps.
With frost bight imminent, we headed for home as the gloom descended. This is our first experience of all the lights on at 3.00 pm and the light fading. On the way home, we were passed by a woman on a motorized scooter with a small headlight on the handle bar. We noticed these e-scooters on footpaths all the way home. They were introduced in Vienna in September. Instead of racks of e-bikes like we have trialed in Australia, they have these scooters.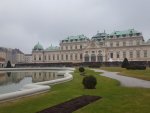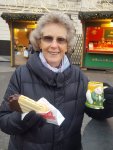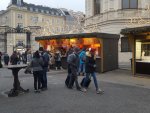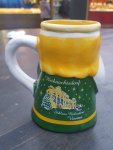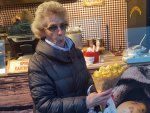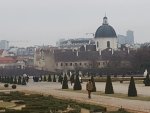 I'm writing this blog as we attempt to stay awake till around 8.00 pm, when we expect to sleep through the night.
Last edited: