Mention the Faroe Islands to most people and you get a blank look. A few recognise the name from the shipping forecast. They are a small group of islands between Scotland and Iceland which belong to Denmark, but are self governing.
Many years ago I read an article about the Faroe Islands in the Daily Telegraph travel section, which had pictures of wooden houses with turf roofs set in stunning scenery. It sounded wonderful and definitely somewhere to add to the todo list.
We visited in 2007 when Smyril Line, the ferry serving Faroe and Iceland also called at Shetland. We drove to Aberdeen for the ferry to Shetland and picked up Smyril Line from there. This is no longer possible as the ferry just calls at Denmark and Norway. The alternative is to fly and hire a car.
We spent a week based in Torshavn. We decided we would spend our time exploring the islands of Streymoy, Vágar and Eysturoy as tunnels joined them. In the time available we decided not to attempt to use ferries to visit the other islands as we had read dire warnings about getting stuck on them due to sudden bad weather.
When we arrived there was snow to sea level and it was sleeting, windy and bitterly cold. Not the best of welcomes. We knew Faroe weather could be 'iffy' as they get a lot of low clouds and mist. The next day started dull but then cleared into a beautiful day. We did have some sunshine but many days were dull and not conducive to good photogrpahs. We could see the grass getting greener during the week. Spring is compressed here and it seemed strange seeing daffodils, tulips and bluebells in flower in the gardens all at the same time.
Impressions of the Faroe Islands
The islands rise up out of the sea in a series of jagged peaks.
The top of many islands is flat with horizontal strata which fall into the sea in a series of stepped cliffs. In places waterfalls cascade down the sides of the hills.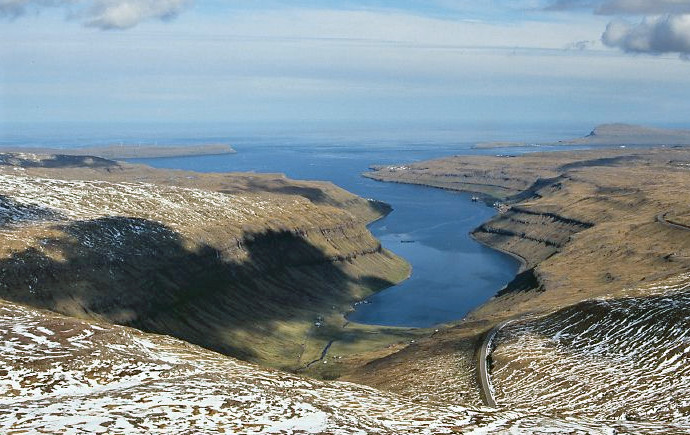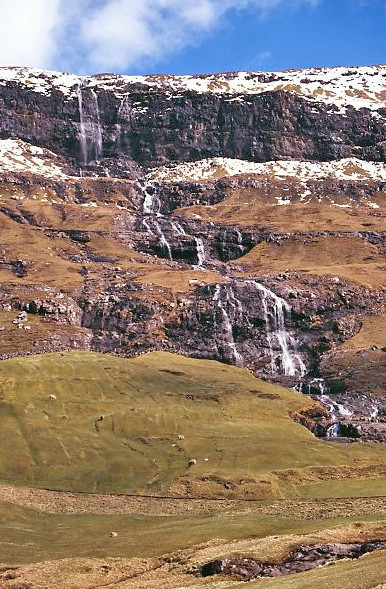 The tops are wet moorland and unsuitable for agriculture.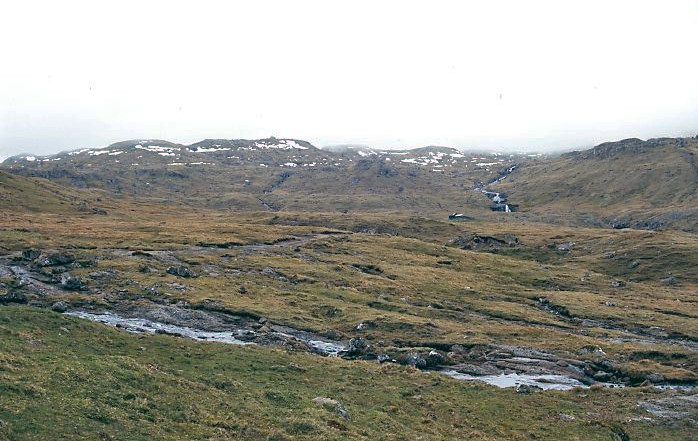 The highest point on the main island of Streymoy is Sornfelli at 749m which has a military station at the summit, reached by Highway 10 which is a long winding road. There is a car park at the top and there are wonderful views across the island.
All the settlement is along the coast.
Flat land is at such a premium that terraces have been built around the villages to increase the cultivatable area.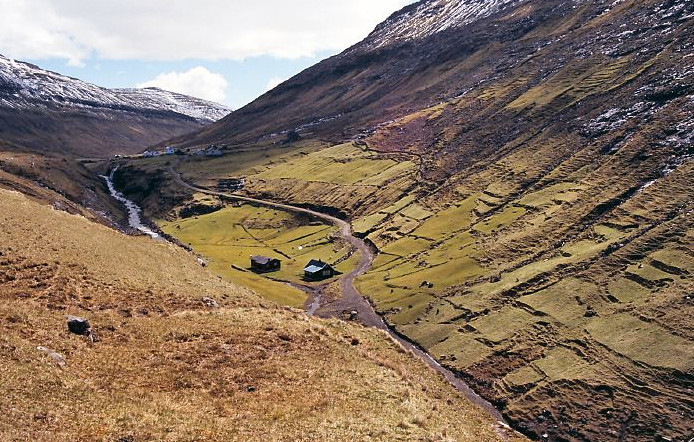 Traditionally houses were made of wood painted with black tar with white window frames. Some still have the traditional turf roofs. The older houses are found round the church and pier. Newer houses tend to be painted white and are built where ever there is space.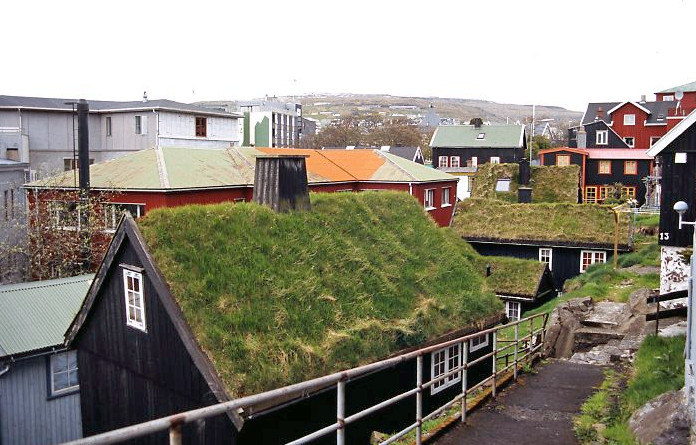 Fishing and sheep are the mainstays of agriculture with potatoes and rhubarb as the main crops grown. Rhubarb grows everywhere and seems to be the main source of vitamin C. It is said there are more sheep than people on the Faroes and it certainly seemed like it. Their fleece is all colours from black through brown to orange to white.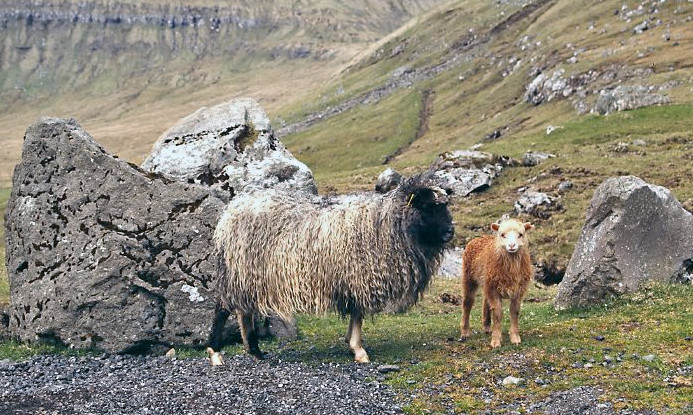 Sheep are a hazard when driving and have a death wish. They will ignore you until the car in almost opposite and then jump out. We had a few near misses. If you hit a sheep you have to telephone the police.
We had hoped to be able to buy Faroese lamb but all we could find in the supermarkets was frozen New Zealand lamb. We later found out that one third of the sheep are killed each year but is all eaten locally. Nearly every house has a wooded drying shed. The lamb is hung to dry (some may be salted first, the rest is hung up fresh) and is used to feed the family for the following year.
Roads are good and very quiet. Road signs are virtually non-existent, possibly because there are so few road junctions and everyone knows where they are going. They tend to be a small board on a lamppost by a junction with a number on it. I missed quite a few before I realised the significance of them.
Underwater tunnels now connect several islands. Tunnels have also been built to connect remote settlements. Some of the older tunnels built in the 1970s are single track, unsurfaced and unlit.
The last remaining settlement to be connected to the road network was a tiny place called Gásadalur. This is a handful of houses surrounded by a huge amphitheatre of cliffs. Before that, the only access was by a cairned track over the mountains which was used by the post man. The guide books described this as difficult (it looked impossible to us), or by helicopter three days a week.
Last edited: