This is a report of just over two weeks spent in the eastern side of Iceland in 2006.
We took our car using
Smyril Line
to get us there. Unfortunately this is no longer possible as Smyril now only sail from Denmark.
Background to the trip
We had spent several holidays in Norway which we loved and our thoughts turned to Iceland. On holiday in Shetland we discovered that Smyril Line operated a complex ferry service from Shetland to Faroe Islands and Iceland. We began to plan a week in Faroe followed by two weeks in Iceland. Still being new to holidays of this sort, we used the Smyril office in Shetland to make all the reservations including accommodation. We decided book Iceland for the first two weeks in June, before the main holiday period which begins 15th June and before the worst of the flies. Iceland is just south of the Arctic Circle, so we had 24 hours daylight while we were there.
Accommodation and food in Iceland is expensive so we decided to book B&Bs which also provided self catering facilities so we could prepare our own meals. These varied considerably and some were decidedly basic. There could be problems if there were other groups wanting to use them at the same time. Most days we were able to buy bread, cheese, salad and yogurts for the evening meal. We also had pasta with packet sauces for times we were unable to buy fresh food. Packs of long life ryebread were a useful standby for days we couldn't find bread for lunch.
Accommodation was simple. Most had a basin in the room but we had to share bathrooms. Nowhere had washing machines so we tried to pack enough clothes without having to wash. A few did have a clothes line and pegs.
We decided to concentrate on the eastern side of Iceland rather than attempt to drive all the way round on the Ring Road. We decided this would mean a lot of driving across what at times could be monotonous scenery. The sandur along the south coast stretches for mile after mile after mile along a straight road with nothing to see but dark volcanic dust. It is impressive but after a couple of hours driving across what seems identical scenery does become a bit boring.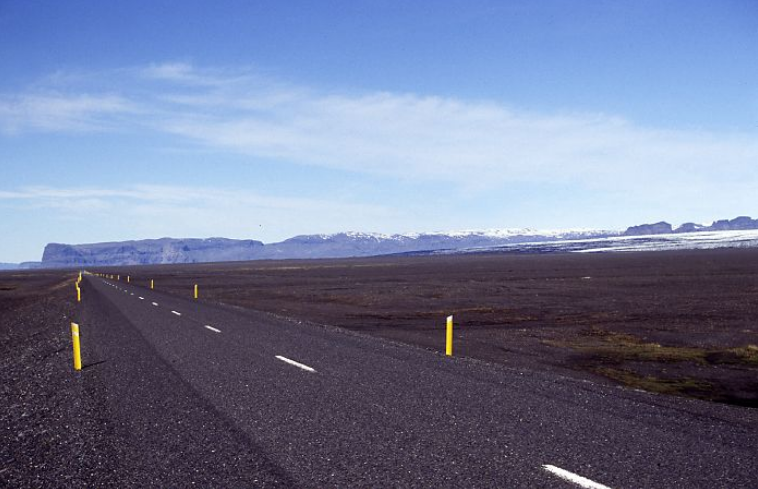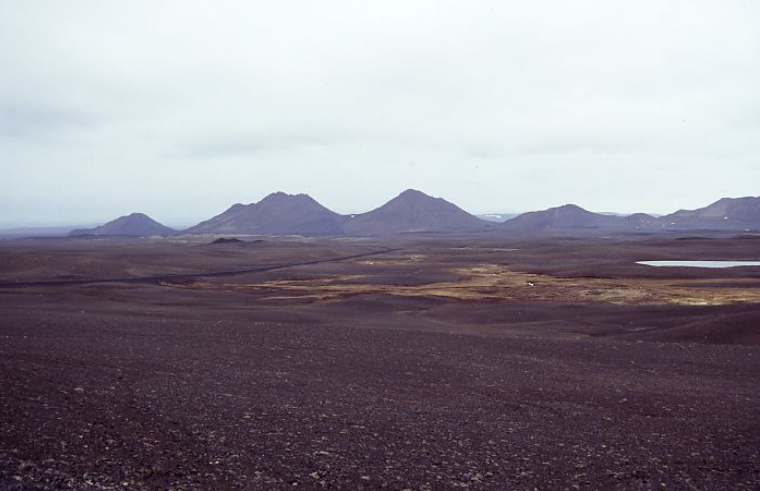 This did mean we doubled back on ourselves and at times drove the same bit of road twice. The scenery was so amazing, this was no hardship.
We chose four bases,
Skaftafell
in the south for the glaciers,
Egilsstadir
in the middle (and near the ferry port of Seydisfjördur),
Myvatn
for the volcanics and
Jökulsárgljúfur
for waterfalls and gorges.
We loved Iceland - the wildness and the scenery. We rapidly ran out of superlatives to describe the view round the next bend in the road. The choice of stops meant we saw a range of different scenery. In early June everywhere was still quiet and there were few tourists around. We enjoyed being able to relax and spend several days exploring each area.
We were still using slide film for photography, working on 1x36 exposure film per day. Slides were later scanned for the web, which explains some of the poor colour in some pictures.
A bit about the roads...
Roads in major settlements are tarmac, with a white line down the middle as is a lot of the Ring Road.
There are many gravel roads (and even parts of the Ring Road are gravel).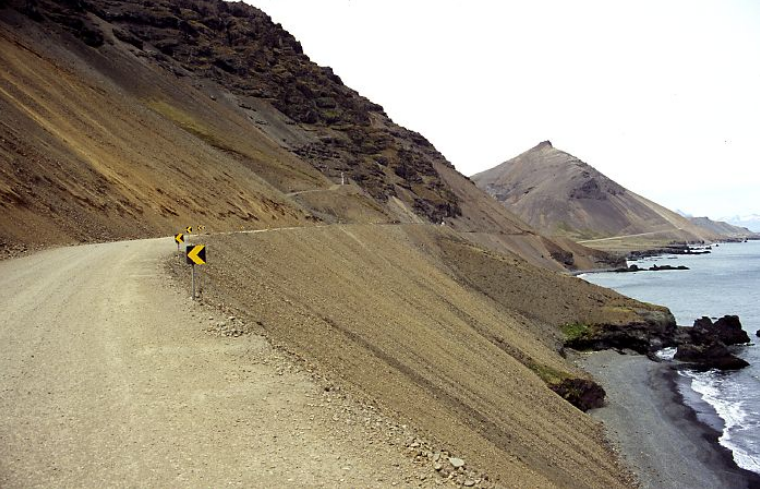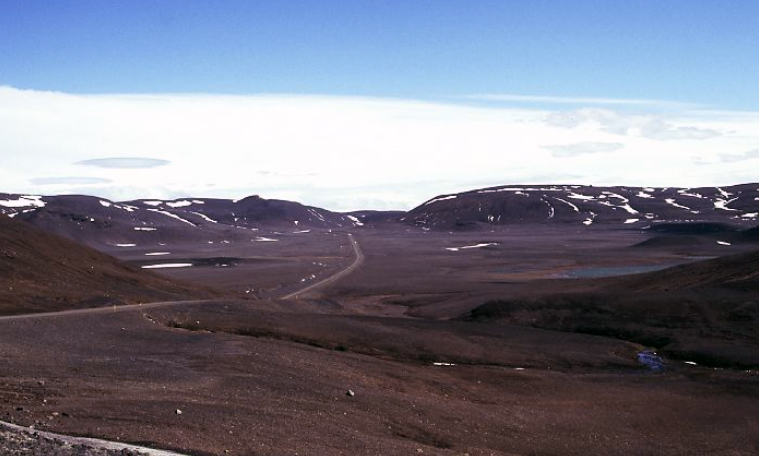 These have a lower speed limit and you need to take extra care when breaking. These are narrower than the tarmac roads and in places run along the side of the mountain. Scree can fall down the side of the mountain and you have to watch out for quite large boulders on the road. Barriers seem to be kept for places you will kill yourself if you come off the road...
Once away from the major centres of population, roads are very quiet and it is possible to drive for hours through deserted countryside without seeing another car or habitation. Make sure you have plenty of petrol in the tank !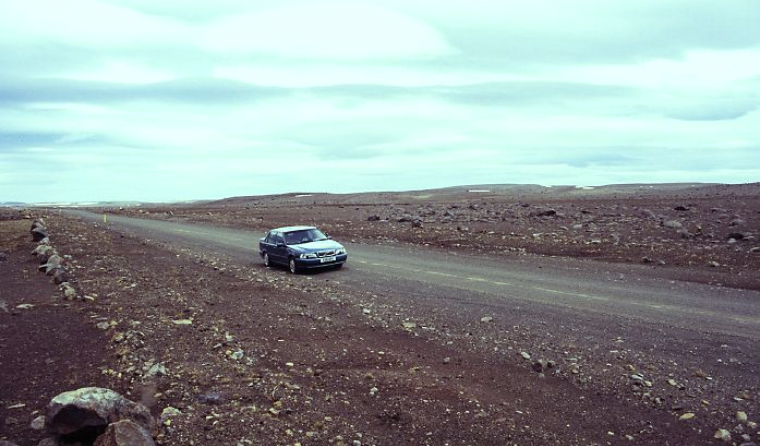 In places well away from any settlement, small 'self service areas' are provided at the side of the road with a drinks and snack dispenser and shelter with a picnic table. Reading comments in the book, it seems that many people put money only to find the machine wasn't working.
In places where roads climb over the mountains there can be many hairpin bends to negotiate.
Headlights have to be used at all times. Speed limits are strictly enforced and there are hefty penalties if caught. There is a zero tolerance policy for alcohol too.
The ring road is kept open throughout the year, but many of the unsurfaced gravel roads are closed during the winter months. Once clear of snow roads remain closed for some time to allow them to dry out and consolidate, so preventing rutting and damage to the surface. This affects the road to Dettifoss which may not open until the beginning of June.
We didn't have a 4 wheel drive car, so F roads in the interior of Iceland were off bounds for us. These are very rough unmade roads with rocks and stream crossings. These can be no more than a trickle of water in the morning, but rise rapidly as the snow begins to melt during the day. Driving off road is forbidden and there are severe penalties if caught breaking this as it can cause damage to the environment which can take decades to recover.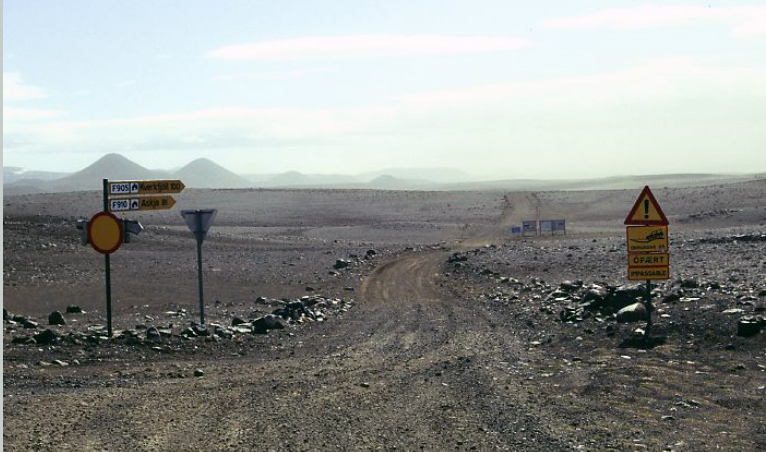 There is more information about driving in Iceland
here
.
Last edited: