This trip report for a week's holiday in 2012 was originally published on Slow Travel.
INTRODUCTION AND BACKGROUND
I hadn't heard of Gozo before I won a week's free walking holiday there with
Headwater Travel
based at
Ta 'Cenc Hotel.
We agreed on a date and also arranged to add on an extra four nights at Phoenicia Hotel in Valletta which would give us chance to see a little bit of Malta. We planned to do this after Gozo - a mistake as Malta is built up and busy compared to Gozo. 

This report covers our week on Gozo, I have written a separate
trip report
for Malta.

The original plan was to use buses on both Gozo and Malta. However when I came to plan out daily itineraries on Gozo it was soon obvious we would not be able to achieve everything we wanted to by bus. We therefore hired a car from Gozo Garage. This was a well used automatic Daewoo of indeterminate vintage with plenty of scratches and bumps. It was expensive but well worth it. We managed to see all we set out to do.
There are few roads on the island. There are no advance traffic signs and roads are signed by a small sign on the side of a building by the junction. We missed several turns until we learnt our way around. We got lost a few times but each time discovered something different to see which often didn't feature in the guide books or on the web.
Headwater Travel were a good company to deal with. Emails were answered promptly and the itinerary confirmed quickly. Travel documents were dispatched in good time and included a pack of suggested walks on Gozo and a reasonable map which showed all roads and most of the tracks on the island. It was small enough to be folded and put in a pocket.
IMPRESSIONS OF GOZO
Gozo is often referred to as Calypso's Isle; the place where Calypso entranced and detained Odysseus for several years in Homer's Odyssey. It is a delightful small island off the north coast of Malta surrounded by the brilliant blue Mediterranean Sea. It is still very traditional and a laid back and relaxing place to visit. You can understand why Odysseus didn't want to leave.
It is reached either by sea plane from Valetta or by ferry from Cirkewwa on the north coast of Malta to Mgarr. We took the ferry. It is a 30 minute trip which gives good views of the uninhabited island of Comino and the
Blue Lagoon
which really does look turquoise blue in the afternoon light. Early morning, particularly if there is any cloud around, it has little colour and doesn't look as attractive.
Gozo feels much more built up than it looks on the map. The capital of Victoria (or Rabat, the Arabian name) is the main town. It is dominated by the Citadel which is the original fortified town surrounded by big ramparts.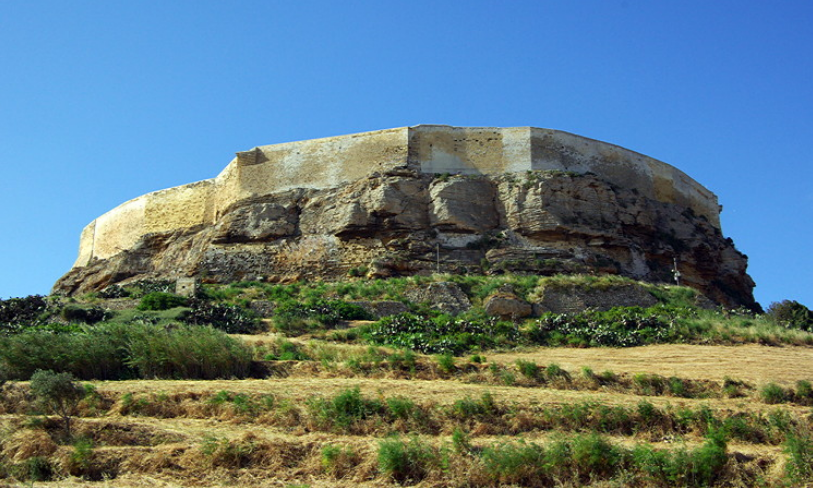 There are several other villages, usually built on the top of flat hills. These are large impressive settlements which feel more like small towns than villages. Each is built round a square with church, police station still with blue Dixon of Dock Green lamp above the door, red telephone box and red post box, very often VR, mounted in a wall.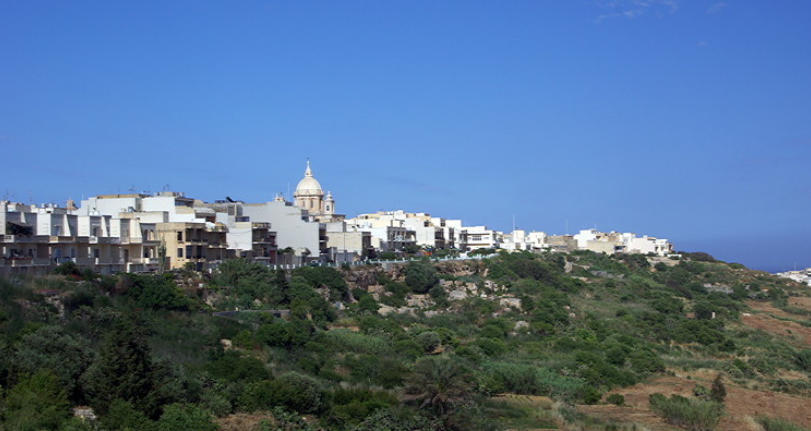 We were struck by how clean and well maintained villages and the countryside was. There was no litter (there is a daily collection of rubbish and recycling is increasingly common). We saw virtually no graffiti.
Houses are built from blocks of locally quarried limestone. The best come from the big quarries near Dwejra. They have flat roofs which often have washing flying on them. Traditionally the houses were very plain with small windows.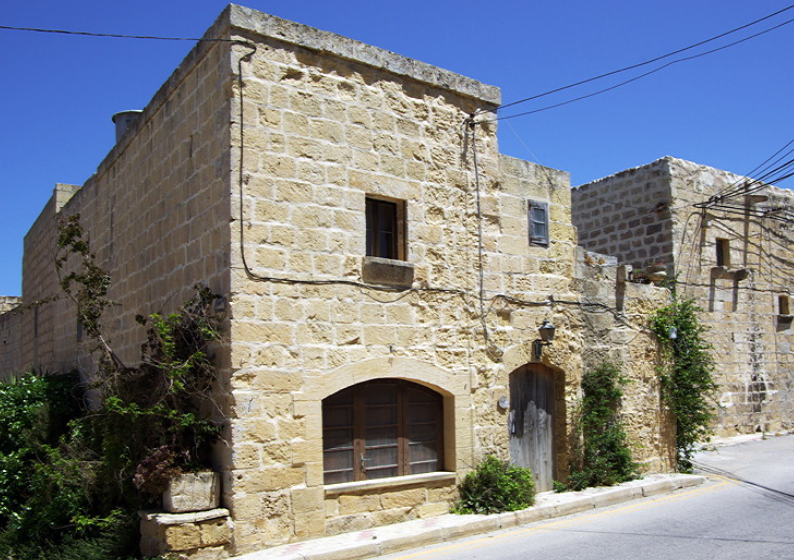 Known as Maxrabija windows, these originally had a stone grille supported by wall mounted stones, covering the window, letting people look out without being seen. Only one of these windows is left on the island, off lighthouse street in Ghammar. The stone supports can still be seen on many old buildings.
Now buildings are much more ornate with carved balconies. They open directly onto the street and often have a small garden at the back. All new buildings are in the traditional style, in keeping with the architecture of the rest of the houses in the village. It is often impossible to tell how old a building is as the limestone is soft and soon weathers.
There is a lot of new development in Qala with huge apartment blocks being put up, either to rent or for sale. Being close to the ferry terminal at Mgarr, people working in Malta buy property on Gozo and use the ferry to get to work.
Most villages have retained a small shop selling everything. These are Tardis like inside and you wonder how they manage to keep so much stock. Most sell bread, a selection of fruit and vegetables, have a cold counter for meats and cheese as well as dry goods and household necessities. There are also mobile greengrocer's vans which visit the different villages. Some of these also sell bread. Victoria, Xaghra and Ghasri all have small supermarkets which are just bigger versions of the village shop.
Traditionally the Gozans were farmers and fishermen. There is still some fishing using small wooden boats. Fields are small are surrounded by either stone walls of hedges of prickly pear. land is at a premium so fields are terraced with large supporting stone walls. Fields are small.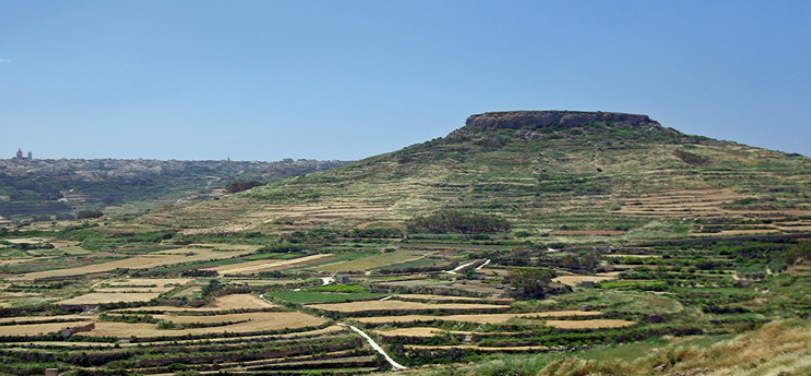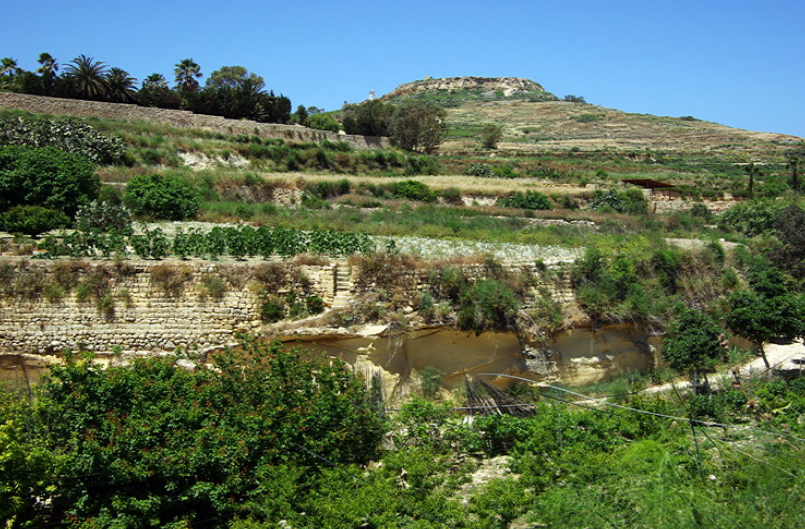 Rain falls during the winter months and from April there is little rainfall. By May hay had been cut and cereal crops harvested. Vegetation was turning brown and dead. It looked more like August/September in England. There were still a few wild flowers around. To see these at their best we would have needed to have visited March/April. There were bushes of wild capers which have beautiful white petals and purple stamens. Locals were picking the flower buds.
Vegetables were still being grown in fields being irrigated. We saw potatoes, beans, onions and strawberries. In the deep valleys called Wieds, the soil is very fertile and the fields were still very green. Lunzjata valley is particularly fertile and intensely cropped. Cows are kept in large farms and we rarely saw them out grazing.
One thing you are aware of in both Gozo and Malta are the small stone shelters used by bird hunters. Over the last few years there has been increasing legislation controlling indiscriminate shooting of song birds and spring is now a closed season, although shooting can still take place in autumn. Fortunately the Maltese are gradually accepting shooting is no longer acceptable.
Gozo has a long history stretching back over nearly 6000 years. The Ggantija Temples in Xaghra are thought to be the oldest free standing building in the world in use from between 3600-3000BC.
There is also another stone structure in Xagra which is not open to the public. This originally had a stone circle round it and the remains of an underground cemetery. It is thought it may have been similar to the Hal Saflieni Hypogeum on Malta. Several small statues called 'fat ladies' and 'stick figures' were found during excavations. These are now on display in the Archaeology Museum in the Citadel in Victoria.
There are thought to be other smaller temple sites on Gozo but little remains of them and they have not been excavated.
'Cart ruts' are also found on Gozo. No-one knows when these were made or what they were used for. The suggestion is that they were made by prehistoric sleds, possibly pulling stones. Examples can be seen on the cliffs at Ta'Cenc and Dwejra.
No description of Gozo would be complete without mention of the Knights of St John who established their capital at Valetta in Malta. They built a series of watch towers round the coast of Gozo to warn of attack by the Turks. many of these still stand and the tower at Dwejra is open for visitors.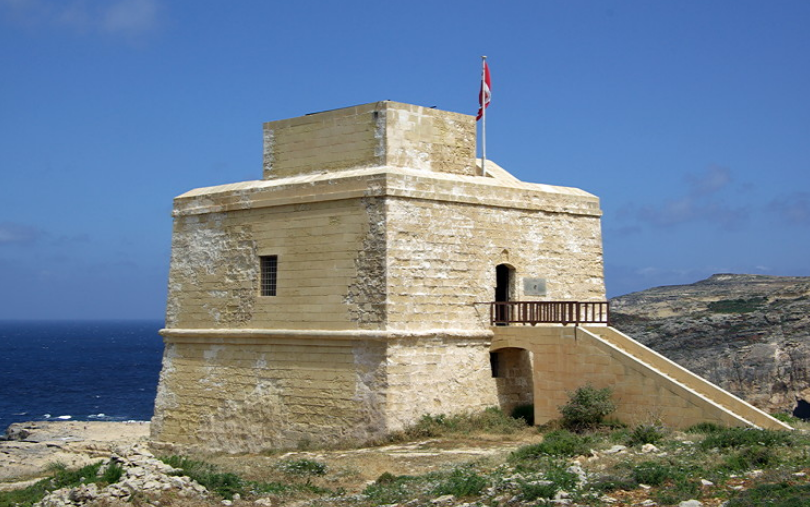 The tower at Xlendi is surrounded by salt pans and the proceeds from the salt helped provided funds for maintenance. There are more extensive salt pans along the coast from Marsalforn which are still used. Small jars of sea salt are popular tourist souvenirs.
Last edited: