A report of holidays in West Greenland in 2007 and East Greenland in 2008, originally published on Slow Travel but rewritten for Slow Europe.
Some background.
We have always been fascinated by the north. After holidays in Norway, Faroe Islands and Iceland, Greenland was definitely next on the list. Our first holiday was in July 2007 when we spent 10 days in West Greenland. We loved it so much that we went back to spend a week in East Greenland in July 2008.
Thirty years ago few people visited Greenland and there was no tourist infra structure. Now all settlements have a tourist office which provides tourist information as well as booking trips.
Tourism reached West Greenland first and most people still head here for the icebergs of Disco Bay and Ilulissat, which is on everyone's 'must see' list. It is at the mouth of a long ice fjord filled with icebergs from Sermeq Kujalleq, the most productive glacier in northern hemisphere. It is one of these icebergs that is thought to have sunk the Titanic.
The other major attraction is Erik the Red's settlement of Brattahild in the south of the island which is reached by a short ferry ride from Narsarsuaq.
Fewer people visit East Greenland which is wilder with very little settlement. Most visitors stay in Tasiilaq or Kulusuk.
A few brave souls make it as far as Scoresby Sound further north. This is polar bear country and we have heard stories that anyone leaving the settlement is given a rifle (and shown how to shoot it) in case polar bears are seen. These are killers and not the cuddly pets they look in the pictures.
Options of getting to Greenland are limited. There are no direct flights from the UK or the States to Greenland. The main airport is at Kangerlussuaq on the west coast which has a daily flight from Copenhagen and flights from Keflavik International Airport in Iceland during the summer months. Narsarsuaq further south has a less frequent service.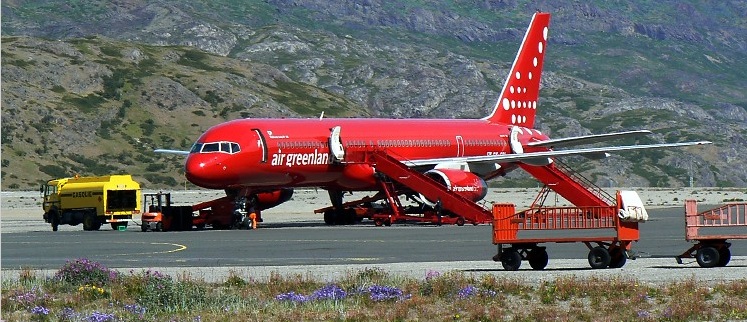 The airport for East Greenland is at Kulusuk which is served by flights from Reykjavik Domestic Airport. For those just wanting a taster, it is possible to do
a day trip
to East Greenland.
Once in Greenland, Air Greenland run a network of feeder services between all airports. There are also ferries in the summer months (the sea is frozen during the winter). Perhaps the best known is
Arctic Umiaq Line
which runs a service from Ilulissat in the north to Qaqortoq in the south and calls at all the major settlements. This provides an excellent way to see the country for those who don't want to join one of the large cruise liners.
Our 2007 itinerary looked like this:
• Fly Manchester to Copenhagen
• Day in Copenhagen
• Fly Copenhagen to Kangerlussuaq and onto Ilulissat
• 3 nights in Ilulissat at the
Arctic Hotel
• 4 nights on Arctic Umiaq Line to Narsarsuaq
• 2 nights in Narsarsuaq at the
Narsarsuaq Hotel
• Fly Narsarsuaq to Copenhagen
• Fly Copenhagen to Manchester
We booked this through a travel company based in Denmark as we couldn't find a UK company that could arrange what we wanted to do. We had a courier from the company on the ship with us who led guided tours around settlements visited. There were tour reps at the Arctic Hotel who arranged day trips from there. Since we went in 2007, Arctic Umiaq now no longer sail as far as Narsarsuaq.
Our 2008 itinerary
was booked through a company that has since gone out of business.
• Fly Manchester to Reykjavik
• Day in Reykjavik
• Fly to Kulusuk for 3 nights in
Kulusuk Hotel
• Fly from Kulusuk to Tasiilaq for 4 nights at
Hotel Angmagssalik
• Fly from Tasiilaq to Kulusuk to pick up the flight to Reykjavik
• Free day in Reykjavik (just in case the Greenland flight was cancelled due to bad weather)
• Fly Reykjavik to Manchester
All the hotels had tour guides based in them who were responsible for running a wide range of trips for visitor
Last edited: