This was originally published on Slow Travel and covers three days spent in and around in Reykjavik on the way to East Greenland in July 2008.
Background Information
After visiting West Greenland in 2007, we decided wanted to visit East Greenland. Flights leave from Reykjavik Domestic Airport so we decided to add three nights in Reykjavik to the itinerary which gave us opportunity to see something of the Reykjavik area.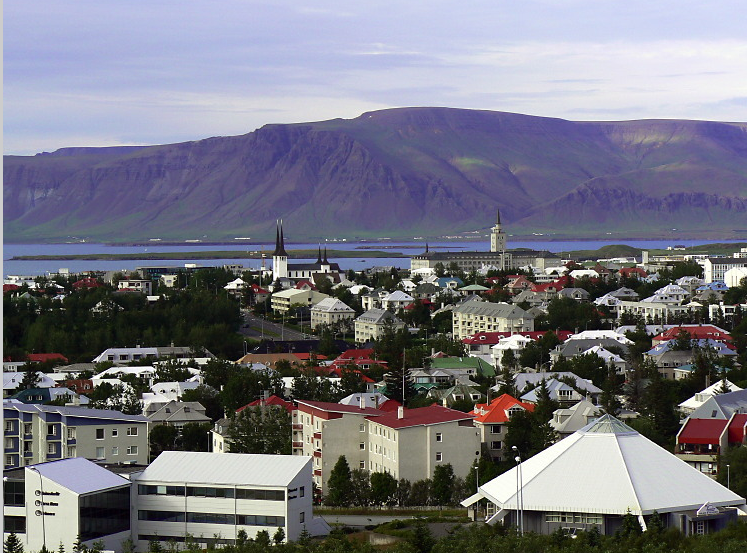 We spent a day around Reykjavik and the open air folk museum. We were keen to do the Golden Circle tour and arranged a taxi for the day through the hotel at a prefixed cost. This was more expensive than signing up for a bus tour. As well as having as long as we wanted at the different sights it also meant we would have chance to visit the Norse Farm settlement at Stong which is not part of the tour itinerary. This worked well and we had a good day.
We stopped at Icelandair Hotel Loftleidir (which is now the Icelandair Hotel Reykjavik Natura). It is on the edge of Reykjavik's domestic airport but on the opposite side to the terminal. It is a large, busy tourist hotel. The city centre is about 30 minutes pleasant walk and there is bus service from the hotel into the city centre. Staff were friendly and helpful. We had a large comfortable room. Some rooms overlook the private aircraft apron which could be noisy at times. Breakfast is a good buffet, but gets very busy. There were large notices warning guests they would be charged for taking food out of the breakfast room for lunch.
Perlan is close by and it is a pleasant walk from the hotel up through the woods.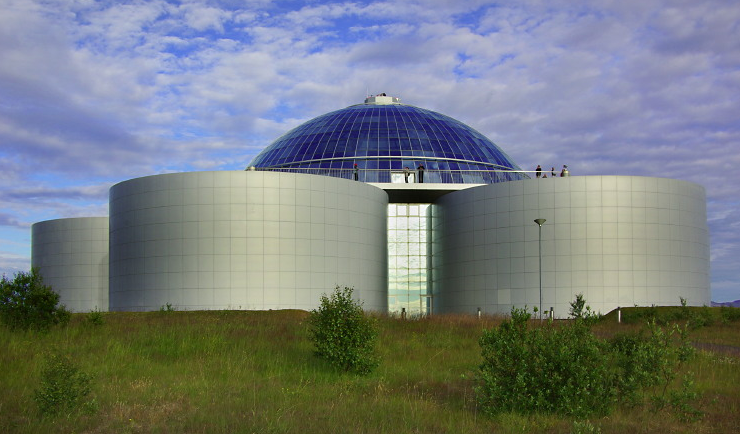 We didn't visit the Blue Lagoon (not our thing). Having spent two weeks in East Iceland the previous year, we found the area around Reykjavik a lot more built up. Although we enjoyed our day round the Golden Ring, scenically we felt the immediate area round Reykjavik is over rated and not as good as other parts of Iceland.
Reykjavik
We spent a couple of mornings wandering around Reykjavik. It was a pleasant walk from the hotel past the large lake Tjörnin. The Radhusid (City Hall) is a modern building of concrete and glass built on the water's edge. The ground floor is open to tourists and has a small Information Centre, cafe and a large relief map of Iceland.
There are a lot of old and beautiful wooden buildings especially around Laekjargata, Laugavegur (the main shopping street) and Adalstræti, the oldest street.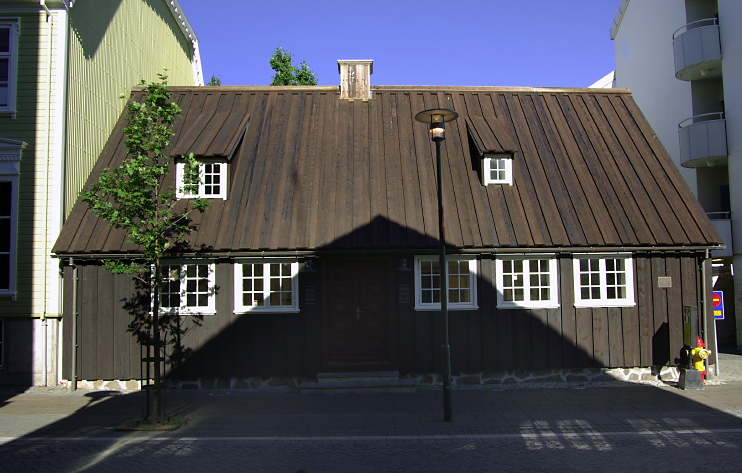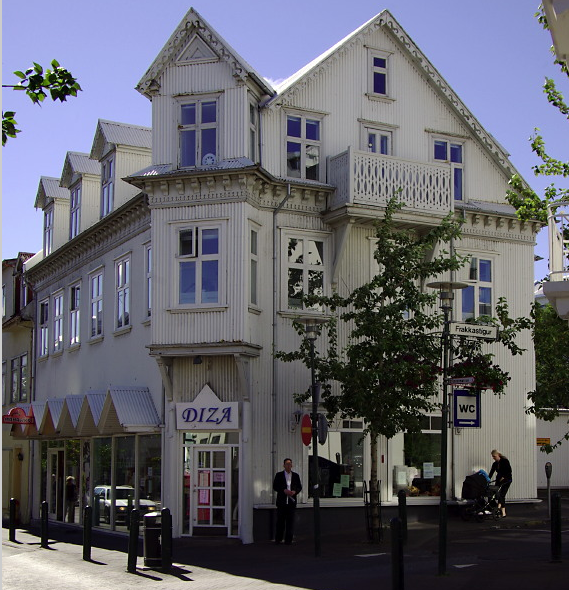 The Falkahus on Vesturgata is a splendid red painted building with carvings of falcons on the roof. Now a shop, it was where the royal falcons were kept before being shipped to Denmark.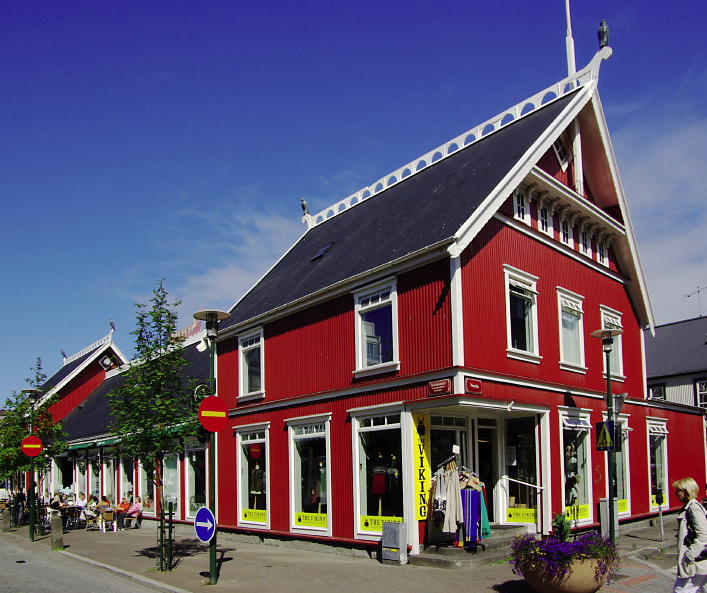 Government House is built on a grassy mound overlooking Lækjatorg Square. It is an elegant white building with slate roof which is one of the oldest buildings in Reykjavik. It was built late 18thC as a prison workhouse but is now the office of the Prime Minister.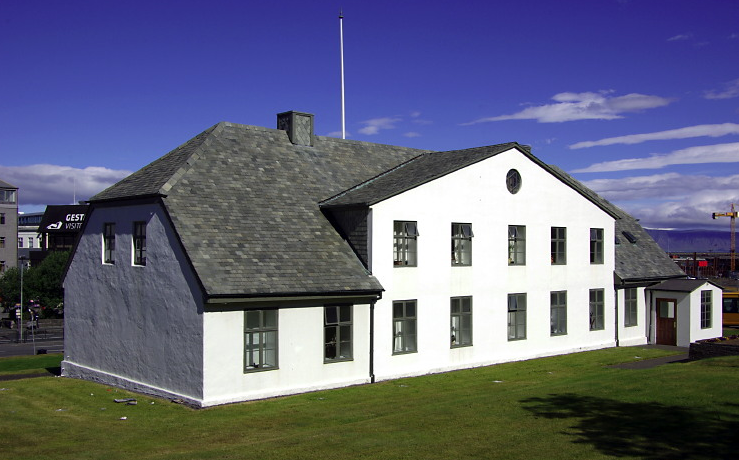 Hallgrímskirkja had scaffolding over the tower which made taking photographs difficult. Although it is often referred to as a cathedral, it is in fact just a church. It is a striking modern building which people either seem to love or hate. The main entrance of the church is huge rising as a stepped curve to a peak at the top of the tower. It is supposed to resemble basalt lava flows. It is possible to get a lift to an outside viewing area, but this was shut when we visited. Behind is a long nave with a rounded choir at the far end. Inside is very plain - almost severe with a tall, narrow nave and very simple choir and high altar. Overall, we were disappointed.
The Dómkirkjan, Lutheran Cathedral on ‪Austurvollur‬ is a much more interesting building.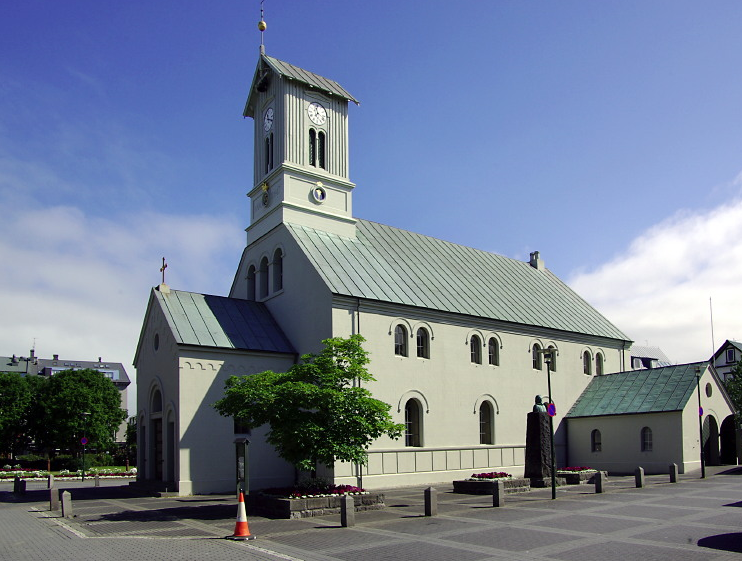 It also has quite a history to it. There has been a church on the site for 800 years. The church was built 1788 but the roof was so badly built it had to be replaced in 1792. Although it could seat most of the population of Reykjavik, the building leaked and was damp so the congregation stayed away. It was discovered that wood used in the building was rotten and the church was condemned in 1815 and thoroughly restored. On Whitsunday 1825 one of the roof beams squeaked so much, that the congregation was driven mad with fear and escaped through doors and windows. It was reconstructed and enlarged in 1847-1848 but allowed to fall into disrepair through lack of maintenance and thoroughly restored again in 1879. The latest restoration was 1999.
Icelandic independence was first officially endorsed by the Lutheran church of Iceland in the Dómkirkjan. Members and cabinet ministers of every Alþing parliament have gathered here since 1845 for a service before the annual session. Iceland's national anthem (also a hymn) was first sung here in 1874.
From the outside it is a simple oblong building with large porch at the front and a side porch. There is a small clock tower and belfry above the main porch. Inside it is an elegant building with a balcony round three sides supported on pillars. The pulpit is dark wood with gilt carvings and there is a painting of Christ above the altar.
The Alpingishús (Parliament House) is a simple basalt building close to the Dómkirkjan.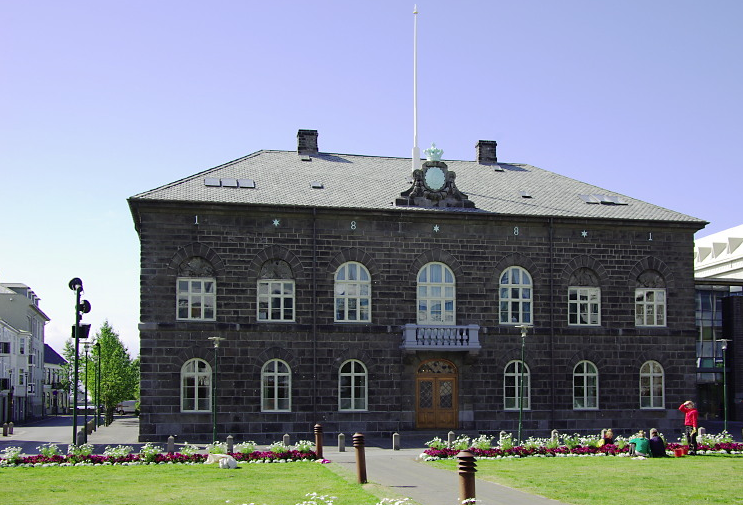 We went for a wander round the old harbour area with small fishing boats and five old whalers, recognised by their harpoons, tied up. On the side of the harbour was a small preserved dock railway engine.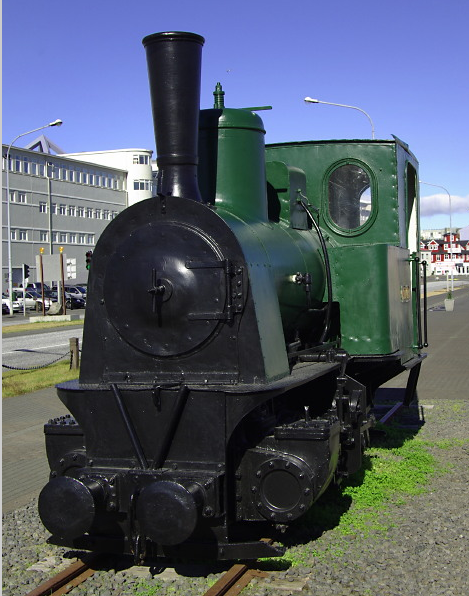 Outside the centre of Reykjavik, a new town has grown up with large modern multi storey buildings. Icelandic architecture is simple but elegant. There is plenty of space and grass around the buildings.
We spent a couple of hours wandering round the Botanic Gardens with their ponds, rock gardens and wild flower beds.
‪
Last edited: