Trip Report of a ten day visit to Romania in May 2017 with Cox and Kings
Mention Romania to most people and they will immediately think of Dracula and Bram Stoker. Vlad the Impaler (Vlad Dracula) was a particularly nasty C15th ruler of Wallachia but has nothing to do with the Dracula myth.
There is a lot more to Romania than Dracula - either real of imaginary but unfortunately many itineraries to Romania concentrate on this, which I didn't want. I wanted to see the painted monasteries and fortified churches. I eventually decided on an itinerary with Cox and Kings which would take me to the places I wanted to go. They also could book me on a feeder flight from Manchester to join the flight from Heathrow. The trip was run in conjunction with the Royal Academy of Arts, with a local guide and guest lecturer. I was expecting high things of the trip.
DAY 1
Flight from Manchester to Heathrow and then very busy drive to Bucharest. Overnight at
JW Marriott Bucharest Grand Hotel
and welcome dinner
DAY 2
A long drive across the Carpathian mountains to Sibiu with a stop for lunch at Caciulata. A guided tour of Sibiu with visits to the Lutheran and Orthodox Cathedrals and the Brukenthal Art Museum. Overnight at the
Ramada Hotel
.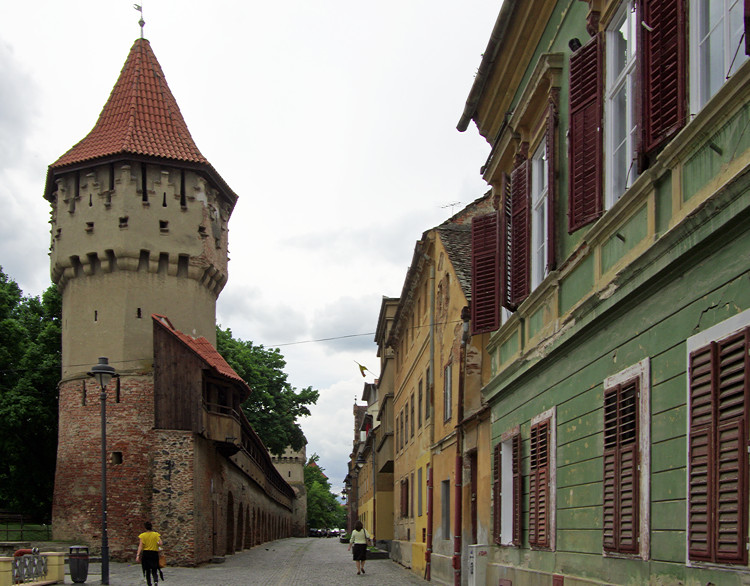 DAY 3
Drive to Biertan to visit the fortified church and then onto Sighisoara with lunch at Casa Vlad Dracula, his alleged birthplace. (It's impossible to avoid Dracula in Sighisoara. You can pay extra to visit the room where he was born, although the building was built well after that date...) Guided tour of Sighisoara including the History Museum in the Clock Tower, the Church on the Hill and the Dominican Church. Overnight at
Hotel Binderbubi.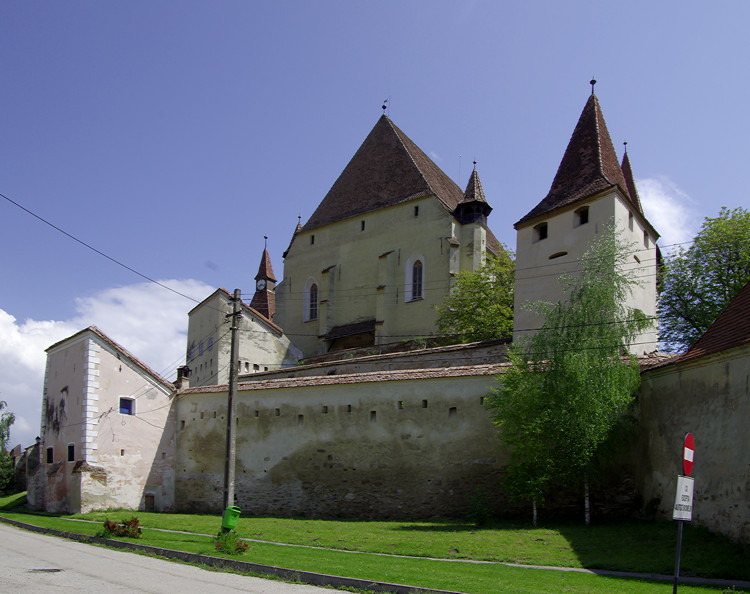 DAY 4
Meeting with a representative of the Mihai Eminescu Trust to learn about their work in conserving villages and the Saxon heritage of Transylvania. Visit to Viscri which is their 'showcase' village with lunch in one of the village houses. Brief stop at Saschiz village on the way back to Sighisoara. Free time in Sighisoara. Overnight at Hotel Binderbubi again.
DAY 5
A full day's drive to Gura Humorului with a short stop at Targu Mures to visit the Palace of Culture. Lunch in Bistrita. A visit to the Museum of Painted Eggs on the outskirts of Gura Hunorului (brought forward from the following day). Overnight at
Best Western Bucovina Club De Munte
.
DAY 6
A day spent visiting the painted monasteries of Moldovita, Sucevita and Voronet. Overnight at Best Western Bucovina Club De Munte again.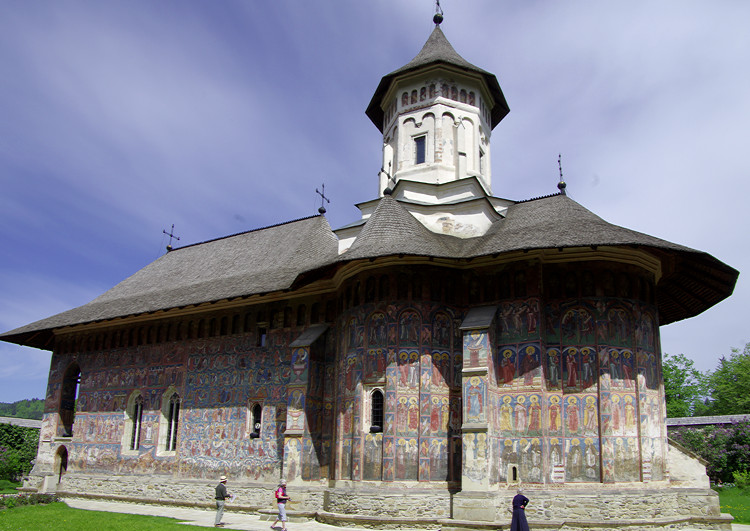 DAY 7
Another full day drive to Brasov with a brief stop to visit Agapia Monastery. Lunch at Rosu Lacu and drive through Bicaz Gorge. Overnight at
Hotel Aro Palace, Brasov
.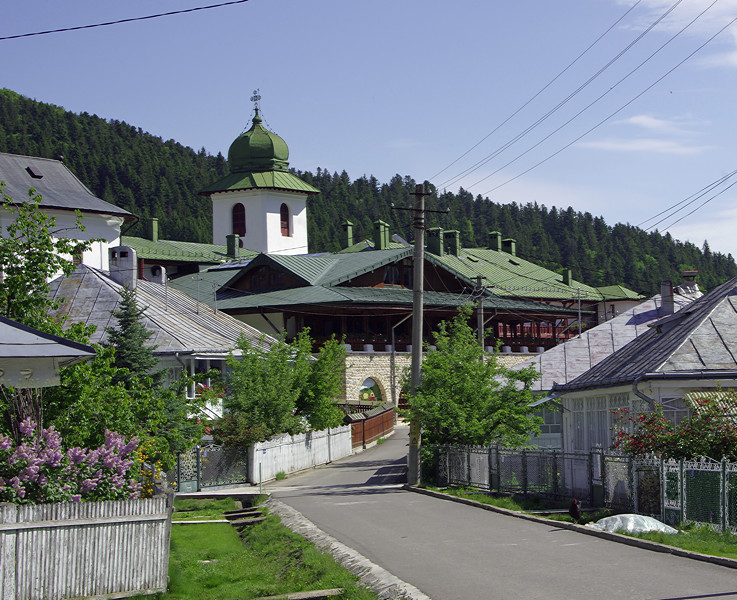 DAY 8
Morning visit to the fortified church at Prejmer followed by a visit to St Nicholas Cathedral and the First Romanian School in the Romanian quarter of Brasov. Walk back to Piata Sfatului and free time in Brasov. Overnight at Hotel Aro Palace, Brasov.
DAY 9
Visit to the Black Church in Brasov before driving back through the Bucegi Mountains. Visit the George Enescu Memorial House followed by Peles Castle before driving back to Bucharest. Overnight at
JW Marriott Bucharest Grand Hotel
and farewell dinner.
DAY 10
Walking tour round the old centre of Bucharest. A photostop for the Palace of Parliament and a guided tour of the Cotrocenti Palace. Drive back to the airport for the return flight to Heathrow and onto Manchester.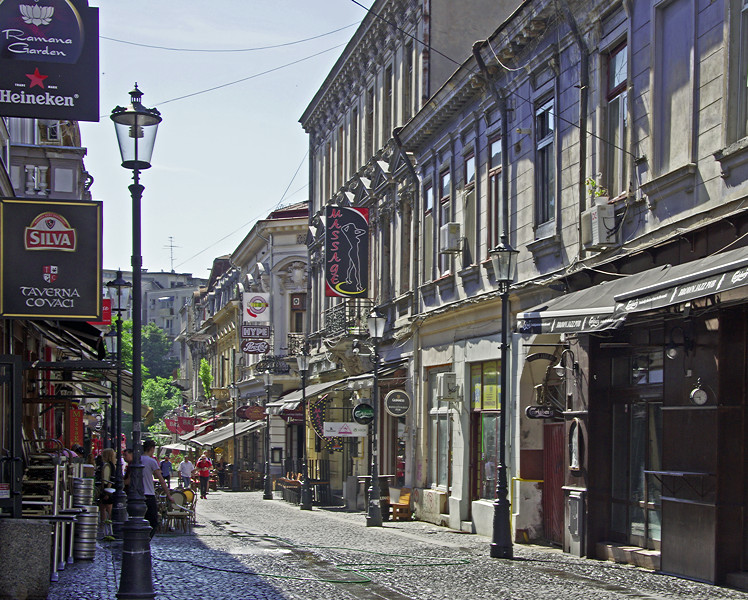 THOUGHTS
The trip wasn't cheap at £1895 plus £250 single supplement and although I enjoyed it, overall I felt that it had not lived up to expectation and could have been a lot better. I am not sure that I would book with Cox and Kings again. I did send detailed feedback to Cox and Kings covering points below.
Perhaps I should have checked driving times before booking as there was a lot of time spent sitting in the coach. Driving times quoted in the itinerary were very much an underestimate once coffee, toilet and lunch stops were added. The drive to Sibiu to just over six hours. We had just under three hours to explore one of the best Saxon towns in Romania before checking into the hotel. Hardly a good return on time.
Days 5 and 7 were very long days sitting in the coach with little to show for it. A few more brief photostops on these days would have been appreciated. Not only was Day 7 a Sunday it was also an important Saint's day. There was a service in Agapia monastery church and the museum and workshops were shut. We went for a walk around the village which was interesting but I did feel had been added to fill up the time.
It was very interesting to hear about the work of the Mihai Eminescu Trust and to visit Viscri. I understand there is accommodation in some of the village houses. It would have been fun to have spent a night there. Not only would this have supported the work of the Trust, it would also have given us chance to see the village when the cows went out to pasture first thing in the morning and returned at night. During the day there was little activity apart from a couple of ladies sitting knitting and the stalls selling handicrafts.
Saschiz is the base of the Fundatia Adept Trust which is working with a group of villages in the area to encourage and promote traditional methods of agriculture and to provide markets for the produce. I found out about this by accident when I picked up a booklet about their work in the small information centre in the village. It was a pity we weren't also told about their work as it complements the work being done by the Mihai Eminescu Trust and gives an understanding of the agricultural year.
I felt many of the days were rushed and we didn't have as much time as I'd have liked in many places. We visited Peles Castle on a Tuesday when the entrance for foreign visitors is not open. The queue for the Romanian visitor entrance was very long and we were standing for nearly 45 minutes before we could go in. It was rather a rushed visit and the scheduled private tour of the second floor quarters of the royal family didn't take place. We also didn't have time to enjoy the grounds.
We didn't have time to visit the church at the Cotrocenti Palace or the gardens. I would also have appreciated a bit longer at the three painted monasteries. Twenty minutes is not long if you want to take pictures (or visit the toilets...)
I was also disappointed there wasn't time in the itinerary to visit one of the Folk Museums of traditional buildings. There are ones in Bucharest and Sibiu. We admired the old houses from the outside but never had chance to see the inside. In comparison, Peles and Controceni Palaces, George Enescu Memorial House and Brukenthal Art Museum did begin to feel a bit like overkill.
All the hotels we stopped in were large international hotels. Although very comfortable, they could have been anywhere in the world. As there were only 19 originally booked on the holiday (which dropped to 17) it would have been nice if we could have been booked into smaller more typically Romanian accommodation at least some nights.