This was originally published on Slow Travel and covers a week we spent in Estonia in May 2007 before it joined the European Union. There was a feeling of anticipation and excitement about this.
Background
Michael had always been intrigued by the three Baltic states of Estonia, Lithuania and Latvia and they had been on his 'wish list' for years. We decided it was about time we did something about it, so bought the guide books, sent off for literature and began to read. We looked at booked tours but quickly discounted them as most seem to scamper through all three countries in a week, which wasn't what we wanted.
As we only had a week available, we decided to concentrate on one country and settled for Estonia as the quality and amount of information sent out by their tourist board was way ahead of the other countries.
We booked a city break through Regent Travel. Initially we wanted to stop in one of the hotels in the Old Town, but they were all were full for the week we wanted, so Regent suggested we we use
l'Ermitage
on Toompuistee, immediately below Toompea. This turned out to be a brilliant location as it was close to the Old Town, convenient for city transport, modern and quiet. It is a very stylish hotel and was spotlessly clean. Meals were good and we would happily stop there again.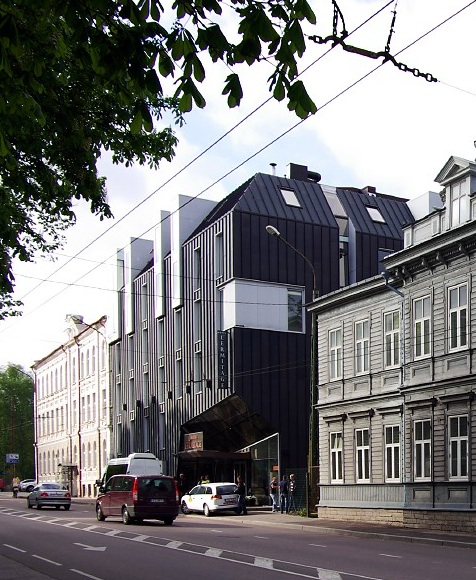 We flew Air Estonia from Gatwick and arranged for a car to pick us up a the airport and take us to the hotel. Going back we used a taxi booked through the hotel and checked with reception what was a reasonable fare. There are reports of taxi drivers overcharging tourists.
Apart from a day trip to Lahemaa National Park booked through the Tourist Office, we spent the rest of the time in and around Tallinn. We bought two Tallinn cards, each valid for three days and excellent value. They give free admission to all the museums, free public transport and free travel on the three circular tourist bus routes which run hourly and have a commentary in different languages.
Tallinn old town is made up of two parts; Toompea which is at the top of the hill and was where the aristocracy lived and the Lower Town where the tradesmen lived.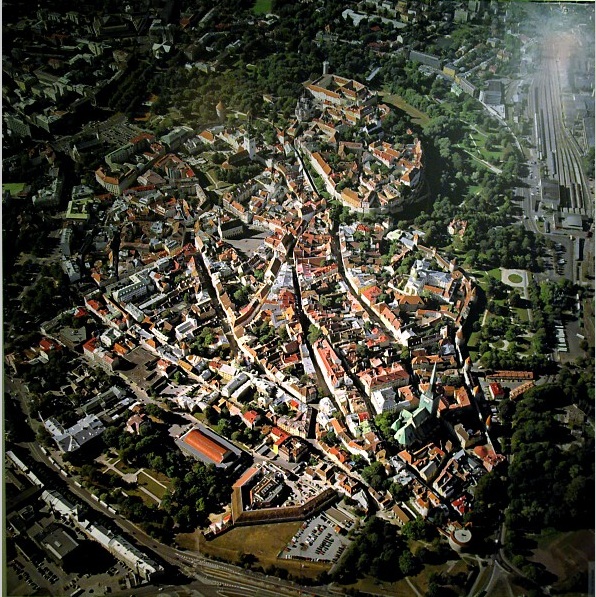 The old town is compact and easily walkable but you do need flat shoes as there are many cobbled streets. It is surrounded by the urban sprawl of the new town with high rise buildings. It could be anywhere. We drove through but did not stop.
We were lucky with the weather. We left Gatwick with grey skies and rain and arrived in Tallinn to brilliant blue skies and sunshine. Even though it was mid May, spring was only just arriving and the trees were just coming into leaf. By the end of the week it was like early summer. The trees were in full leaf and all the blossom was out.
A bit of historical background
Estonia has had a very checkered history and been controlled by several different foreign powers, all of whom have left an impression on the city. The Danes were the first, followed by the Swedes and finally the Russians in the 17thC. In the Middle Ages, the Lower Town was established as a major trading centre by German merchants and the Hanseatic League. After the first world war, Estonia became independent. It was invaded by the Germans in 1940 and finally 'liberated' by the Russians at the end of the war. They stayed and Estonia became part of the Soviet empire. All land was taken into collective ownership and it was a very repressive regime. Land owners or any one who complained was sent to Siberian labour camps. Few returned. Secret files were kept on everyone. Tour guides said if they had shown visitors around they were interrogated afterwards as to what questions the visitors asked and who they spoke to. A lot of Russian labour was imported. The Russians had bombed and destroyed a lot of the old town area in 1944 but to give them their due it has been rebuilt exactly as it was. Any new building took place outside the old town area.
In 1991/2 Estonia gained independence. A law was passed that anyone in a position of authority had to speak fluent Estonian. The Russian ruling classes were unable to keep their jobs and moved back to Russia. A lot of the labourers stayed but as they didn't speak Estonian they were only employed in the low paid menial jobs. Many did not want (or were unable) to learn Estonian and now form a lower under class who live in the 1960s concrete blocks and are very deprived.
All children have to learn Estonian at school but the Russians kept their own schools and all lessons were in Russian. Go ahead Russians now try and make sure their children go to Estonian schools.
At Independence there was little currency available and people were only allowed to exchange a set number of roubles for Estonian Krone - regardless of how wealthy you were. The rest of the money was effectively valueless.
We saw old Russian women begging outside the Russian Orthodox cathedral or selling bunches of flowers they had picked. All of these grow wild; lily of the valley, cowslips and forget me nots. We were approached by 2 old gentlemen who tried to sell us a Russian coin. 'very valuable', with a picture of Lenin on it.
Land ownership and houses are being returned - as long as you are able to prove your right to the property or land. In many cases there is a dispute which means the house gradually falls into disrepair as no-one wants to spend money on it unless they are absolutely sure it belongs to them. There are large numbers of beautiful old houses throughout Tallinn which are still unclaimed or there are arguments over. Even if ownership is proved, some people cannot afford the cost of refurbishment and if the house is rented, they are unable to put up the rent until it is refurbished. A vicious circle. Apparently Swedish property developers have started to move in and buy up property which they refurbish and then sell on at 'Swedish' prices.
Last edited: