TO THE WEST OF BORREZE - MONTPAZIER
Montpazier
is described as one of best preserved and most photogenic bastides. We hadn't intended to stop, but as we drove past it looked interesting and, although it was getting late, we decided we had time for a quick visit. We found somewhere to park on the outside of the walls. It is popular with tourists and coach tours as there is a wide range of shops for them. Fortunately by 4.30, they were all heading for home loaded down with bags of shopping. 

It is an attractive walled town with gateways through the walls. It is one of the earliest bastides (fortified walled town), being built by Edward I in 1284 to protect the southern flank of his French possessions. It eventually passed into French control in the late C14th.
Three of the original six gateways survive and several houses have retained their original appearance. It is built to the typical bastide grid pattern with the parallel streets crossing at right angles. In the centre is the main square with arcaded shops around it. These date from the C13-16thC and have a small gap between them to reduce the risk of fire spreading. The corners of the houses are cut away to allow easier passage of animals into the square. Narrow alleyways lined with tall houses run off this.
The town had an air of purpose to it with locals hurrying about their business. It repaid visiting. 

Église St-Dominique
is behind the square. The original building was C13th but it was fortified in the C14th. It is a large building with an offset square west tower with a pointed roof. The nave is as tall as the tower and is heavily buttressed. The side aisles are much lower.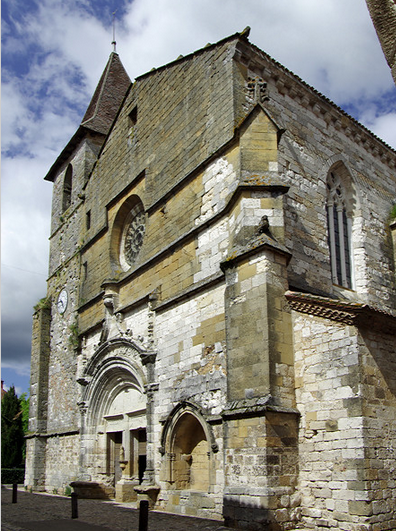 Entry is through the splendid double west door. Between the doors is a small carved figure of a bearded monk with a rosary. The door has a series of narrow curved arches set under a curved portico with pinnacles with small carved cherubs at the top.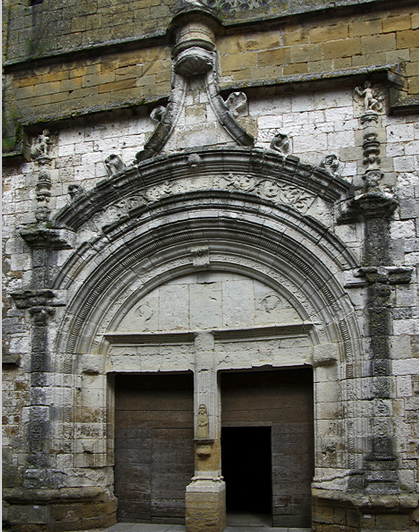 Inside, the nave has side chapels set back under pointed arches with a pattern of embossed flowers. Small round wall pillars with carved capitals continue to form the ribs of the vaulted ceiling.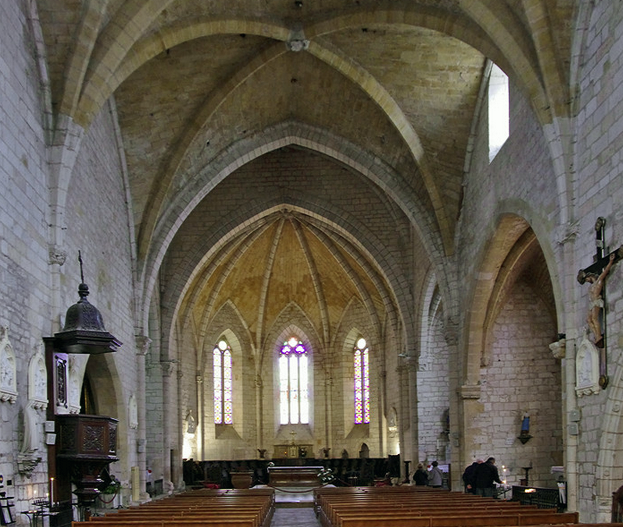 The side chapels have marble altars. That at the back of the north wall is separated from the nave by a wrought iron rail. This has a small reredos with integral host box and a carving of the pieta above. On either side are memorial stones with the names of the dead from World War One with a statue of Joan of Arc and a kneeling angel.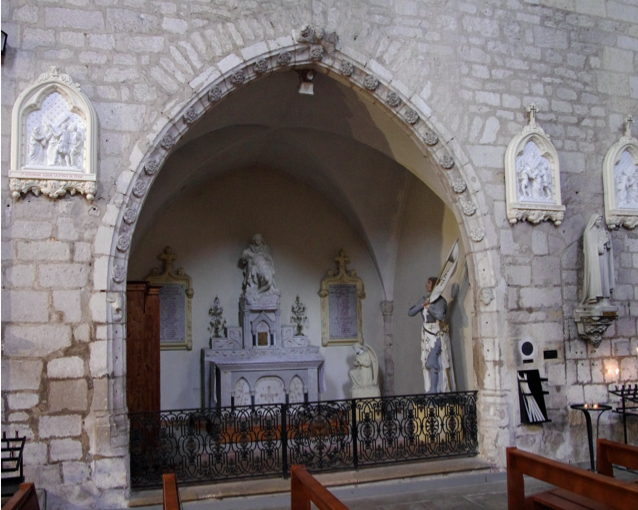 The elegant vaulted apse has carved choir stalls round the walls with misericords. There is a free standing wooden altar with a gilded host box on the back wall with a crucifix above.