This trip report was originally posted on Slow Travel and covers a week spent exploring the Dordogne in May 2015, from a base near Sarlat-le-Canada.
INFORMATION AND BACKGROUND
We have spent two holidays in France, sailing with Brittany Ferries and taking our car. We had enjoyed the
Auvergne
so much the previous year and fancied getting further west into the Dordogne and south into the Midi-Pyrenees. This made us start to think about Northern Spain, an area we've not been before. Michael has been wanting to get into the Basque country for many years. We could use Brittany ferries to Bilboa and spend a few days in Spain and then slowly work our way north and catch the ferry back from Caen.
We began with a few days in the mountains of the
Picos de Europa
before moving east into
Navarra
. We then headed north into France and spent a week in the
Midi-Pyrenees
near Foix, before moving to a gîte in a tiny hamlet nearly 20 miles north east of Sarlat-le-Canada.
We chose May which avoided school holidays and we thought the weather would be warm, but not too hot. It had been a late spring. The few days in the Picos de Europa had been good, but Navarra and the Midi-Pyrenees had been cold, dull and damp. The weather did improve slightly for the Dordogne and we had three days with sunshine. The best two days were as we drove north for the ferry home.
I chose the Sarlet area as a base. Tourist information in Sarlat sent me lots of information, unlike Les Eyzies, who told me information was on the web and they had a policy of not sending out information. My email that I had a policy of not visiting places that didn't send out information fell on deaf ears.
We wanted to book accommodation through Brittany ferries and the only place on their web site was Pech Mezel, near Borrèze, a small village to the north west of Sarlat.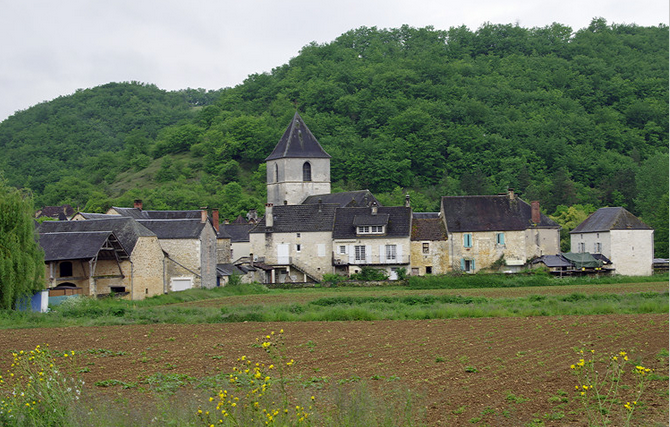 It was a beautiful setting up a side valley surrounded by walnut orchards. The downside was it was several miles up a very narrow road with many blind corners. Michael was a lot happier once they cut down the verges so he could see the edge of the road. Fortunately we didn't meet any other traffic.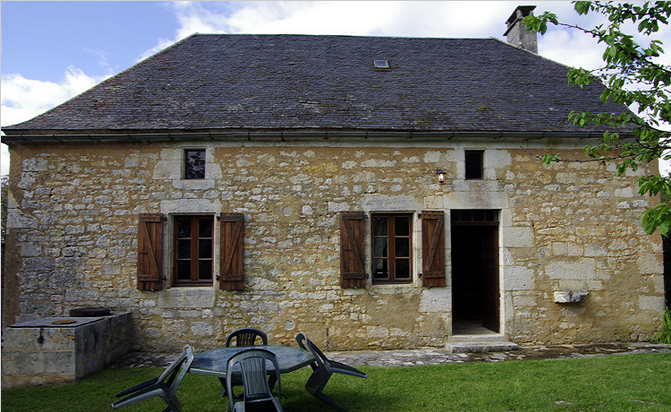 It was a traditional building with very thick stone walls, a huge open fireplace and old stone sink on the wall. Windows were small, making it quite dark inside and lighting was poor. After the damp spring, it felt damp inside. Heating was by small electric fires and we never did manage to get the place warm. Furnishing was a bit spartan. We felt it was expensive for what was provided and I'm not sure that I would want to stop there again.
The property is no longer available through Brittany Ferries although it is advertised through
Gîtes de France.
Borrèze has lost its baker, but there is a very good baker and butcher in Salignac about 5miles away. This also has a basic and rather scruffy Intermarché, so we planned to do shopping at the Super-U in Souillac.
We enjoyed the Dordogne and are aware we hardly scratched the surface of the area. We were disappointed by the honey pot sites of Beynac and La Roque Gageac, but found many of the smaller towns and villages delightful. Often there is little information about these on the web or in the guide books which is why I have written detailed descriptions of them
CONTENTS
#2 An overview of the Dordogne
#3 To Borrèze - Castlenau-de-Montmiral
#4 To Borrèze - Montricoux
#5 The area around Borrèze - Salignac
#6 The area around Borrèze - Vieux St-Crepin, Carlucet and Paulin
#7 The area around Borrèze - St Geniès
#8 The area around Borrèze -St Amand-de-Coly
#9 Vézère valley to the north east of Borrèze - Cabanes du Breuil
#10 Vézère valley to the north east of Borrèze - La Maison Fort de Reignac
#11 Vézère valley to the north east of Borrèze - St Léon de Vérèze
#12 The Dordogne valley to the south west of Borreze - Carsac-Aillac
#13 The Dordogne valley to the south west of Borreze - La Roque Gageac
#14 The Dordogne valley to the south west of Borreze - Beynac
#15 The Dordogne valley to the south west of Borreze - St Cyprien
#16 To the west of Borrèze - Urval
#17 To the west of Borrèze - Abbaye de Cadouin
#18 To the west of Borrèze - St-Avit-Senieur
#19 To the west of Borrèze - Montferrand-du-Perigord and the Church of St Christopher in the Graveyard
#20 To the west of Borrèze - Santa-Croix-de-Beaumont
#21 To the west of Borrèze - Montpazier
#22 To the south of Borrèze - Belvès
#23 To the south west of Borrèze - Prats du Perigord
#24 To the south east of Borrèze - Besse
#25 To the south west of Borrèze - Villefranche du Perigord
#26 To the east of Borrèze - Rocamadour
#27 To the east of Borrèze - Beaulieu-sur-Dordogne
#28 To the east of Borrèze - Carennac
#29 To the east of Borrèze - Martel
#30 To the north east of Borrèze - Collonges-la-Rouge
#31 To the north east of Borrèze - Turenne
Last edited: