This trip report was originally posted on Slow Travel and covers four nights spent in the Picos de Europa in May 2013.
BACKGROUND INFORMATION
We had spent two holidays in France in 2011 and 2013, sailing with Brittany Ferries and taking our car. We had really enjoyed our time in the
Auvergne
and fancied seeing some more of the Dordogne area as well as getting further south into the Midi-Pyrenees. This made us start to think about Northern Spain, an area we'd not been before. Michael had been wanting to get into the Basque country for many years. We could use Brittany ferries to Bilboa and spend a few days in Spain and then slowly work our way north and catch the ferry back from Caen.
We discounted the coast (rainy and touristy) and eventually decided on two different areas, Picos de Europa, in Cantabria and
Navarra
. After that, we would spend a week in the
Midi-Pyrenees
near Foix, followed by a week near Sarlat-le-Canada in the
Dordogne
.
We chose May which avoided school holidays and we thought the weather would be warm, but not too hot.
It had been a dull damp ferry crossing and was raining when we arrived in Bilboa. The rain got heavier as we drove south and the cloud was well down on the mountains. We didn't see much of the scenery. After a dull start the next morning, the weather improved and we had three days of sunshine. It wasn't to last long and much of the rest of the holiday was dull and damp with temperatures struggling to reach double figures.
We had booked accommodation through Brittany Ferries and had chosen
El Covaju Apartments,
Acenaba, near Potes. Originally a hacienda, it now has several modern self catering apartments. These are in a delightful setting among the trees high above the river, reached up a side road off the CA184, Potes to Pesaguero road.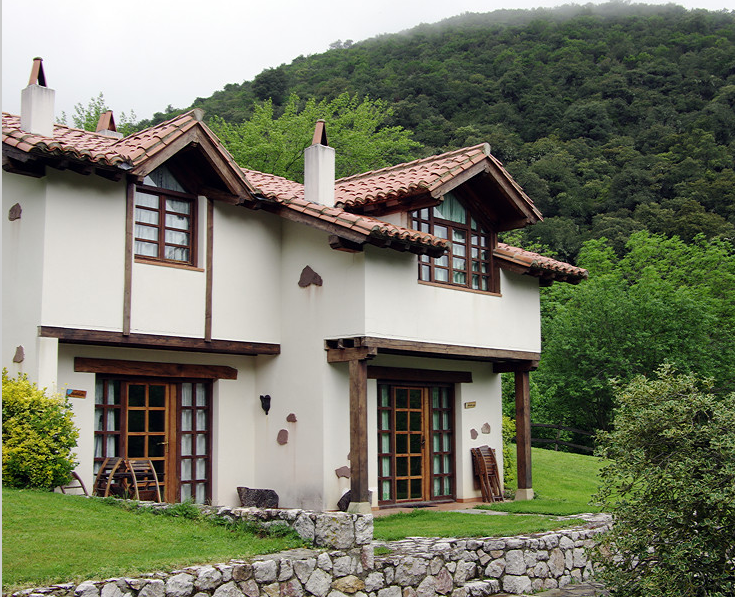 We had a very pleasant and well equipped apartment. There was lashings of hot water, and it was warm and cosy. We didn't need to light the wood burning stove. In warm weather there is a pleasant grassed area outside with table and chairs for al fresco dining.
We did all our own catering. There was a small traditional bakery in Vieda, a tiny settlement on the road to Potes which we used for bread for lunch, otherwise we used the large Super-U on the outskirts of Potes for shopping.
We enjoyed El Covaju and found it an excellent base to explore the area around Potes. We spent the time exploring the small settlements within an hours drive of Potes. Although roads were good, many were narrow and winding so driving times were slow.
You do need good weather as there isn't a lot of wet weather activities.
CONTENTS
:
# Impressions of Picos de Europa
#3 Potes
#4 Fuente Dé
#5 Santo Toribio de Liébana
#6 Iglesia Santa Maria de Lebaña
#7 Iglesia Santa Maria la Real de Piasca
#8 Villages to the north of Potes
#9 Aniezo, to the south east of Potes
#10 Villages to the south west of Potes
Last edited: