This trip report was originally published on Slow Travel and covers a cold and damp five days spent in Navarra in May 2013.
BACKGROUND INFORMATION
We had spent two holidays in France in 2011 and 2012, sailing with Brittany Ferries and taking our car. We had really enjoyed out time in the
Auvergne
and fancied seeing some more of the Dordogne area as well as getting further south into the Midi-Pyrenees. This made us start to think about Northern Spain, an area we've not been before. Michael had been wanting to get into the Basque country for many years. We could use Brittany ferries to Bilboa and spend a few days in Spain and then slowly work our way north and catch the ferry back from Caen.
We decided to begin with a few days in the mountains of the
Picos de Europa
, before moving east into Navarra. After that, we would spend a week in the
Midi-Pyrenees
near Foix followed by a week near Sarlat-le-Canada in the
Dordogne
.
We chose May to avoided school holidays and we thought the weather would be warm, but not too hot. Navarra is semi arid desert and can get very hot in the summer. It was a late spring that year and most days were dull and damp with temperatures struggling to reach double figures. We regretted not taking hats, gloves and scarves with us. On two afternoons it settled down to steady rain and we gave up and headed back to our accommodation.
We wanted to book accommodation through Brittany Ferries. There wasn't a lot of choice for the area we wanted to stop. We wanted to be in the countryside and avoid large towns like Pamplona and Vitoria. In the end we chose
Camping Aritzaleku, Lerate
. This is a huge camp site on a small peninsula in Embalse de Alloz below the village of Lerate, about 10 miles south west of Estella.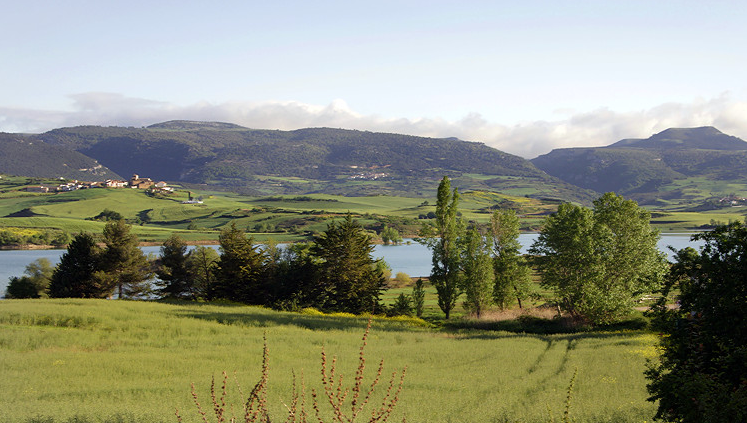 It also had a few self catering chalets and we booked one of these. It was half of a typical wooden 'A' frame chalet which had little space inside, was very basically furnished and poorly equipped. It served once we got used to the quirks of the place and found the two additional electric fires hidden in a cupboard. Evening meals were bread, cheese and salad as the small cooker was very slow to heat up. There was no kettle and it took over an hour for a saucepan of water to reach nearly simmering point for a cup of tea. We never did achieve a boil. Although it was advertised as sleeping five people, it felt cramped with just two of us.
Fortunately in May, the camp site was quiet and there was little noise. In high summer we felt it would be very busy as there are nearly 200 pitches plus a lot of camping chalets. We felt it was expensive for what was provided and I can't say we enjoyed stopping here. However this was the area we wanted to stay and this was the only choice.
We liked the area and it did prove to be a good base for what we wanted to do and see, especially if the weather had been better.
CONTENT
:
#2 Impressions of Navarra
#3 Lerate and the surrounding area
#4 La Valdorba
#5 Estella
#6 Estella - Iglesia San Pedro de la Rua
#7 Monasterio de Irache (Iratxe)
#8 Puente de la Reina
#9 Santa Maria de Eunate
#10 Cerco de Artajona

#11 St Martin de Unx
#12 Ujue and its fortifed church
#13 Ujue - Iglesia-Fortaleza de Santa Maria, Ujue
#14 A day round the foothills of the Pyrenees - outward bound
#15 Fabrica de Orbaitzeta
#16 Orreaga/Roncesvalles and Iglesia de Santa Maria
#17 A day round the foothills of the Pyrenees - homeward bound
Last edited: