We spent a cold and rather wet week based at Montferrier in May, covering parts of Aude, Ariège and as far west as Haute Garonne.
This trip report was originally published on Slow Travel.
Background Information
We have spent two holidays in France, sailing with Brittany Ferries and taking our car. We had enjoyed the
Auvergne
the previous year and fancied getting further west into the Dordogne and south into the Midi-Pyrenees. This made us start to think about Northern Spain, an area we've not been before. Michael has been wanting to get into the Basque country for many years. We could use Brittany ferries to Bilboa and spend a few days in Spain and then slowly work our way north and catch the ferry back from Caen.
We began with a few days in the mountains of the
Picos de Europa
, before moving east into
Navarra
After that, we decided to spend a week in the Midi-Pyrenees near Foix, followed by a week near Sarlat-le-Canada in the
Dordogne
before heading for home.
We chose May which avoided school holidays and we thought the weather would be warm, but not too hot. It had been a late spring and Navarra had been cold and damp. We left Navarra in torrential rain. As we climbed up over the Pyrenees, the cloud came down and so did the temperature, to 2˚. A snow plough and gritter passed us going the other way. By the time we reached St Girons, the rain was beginning to ease and the temperature had crept up a few degrees. This weather stayed with us all week. Instead of being too hot, we wished we had packed hat and gloves....
We were wanting a base in the foothills of the Pyrenees and the area around Foix seemed to be a good choice. Brittany Ferries had two properties in the area. We quickly dismissed one which would have involved a 15 minute drive along a narrow and winding road at both ends of the day. We chose Hameau de Barthale in
Montferrier.
This proved to be a good choice. Barthale is a small hamlet, a continuation of the slightly larger Montferrier, signed south off the D117, Foix to Lavelanet road. Montferrier has two small shops selling basic groceries and bread. There is a small restaurant at the start of the village which had very limited opening hours in May. The larger settlement of Lavelanet, about five miles to the south west, has a range of supermarkets.
The ski resort of
Les Monts d'Olmes
is a short drive to the south. Château de Montsegur is an even shorter drive to the south east.
Montferrier is a workaday village set in a steep sided valley with mixed woodland.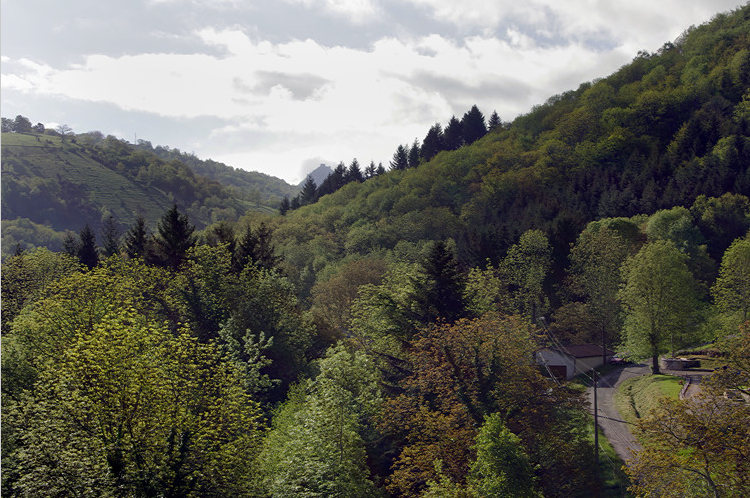 The narrow main street is lined with plaster or stone houses with wooden shutter. Walls are painted in a rather drab shade of beige which can give the village a rather dour appearance.
It had been a fortified town with a castle but all that is left are some stones at the top of rue du Château. The square, lined with tall houses, contains the war memorial.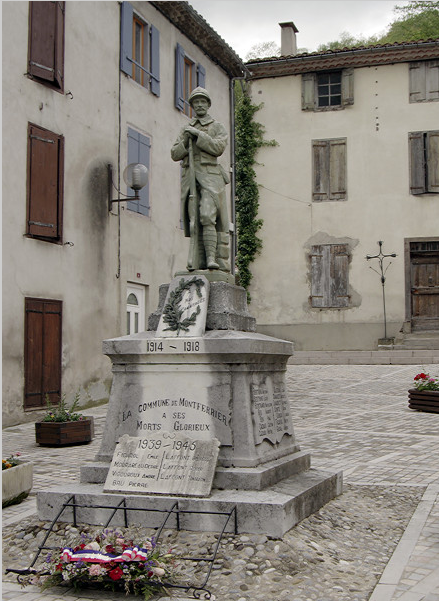 The church has clocher peigne with a 3-2-1 arrangement of bell holes with a double row of bells in the lowest row. There is a tall plastered nave with a buttressed apse and lower sacristy on the south wall. There is a large stone porch over the west door. The church always seemed to be locked and we never did manage to get in it.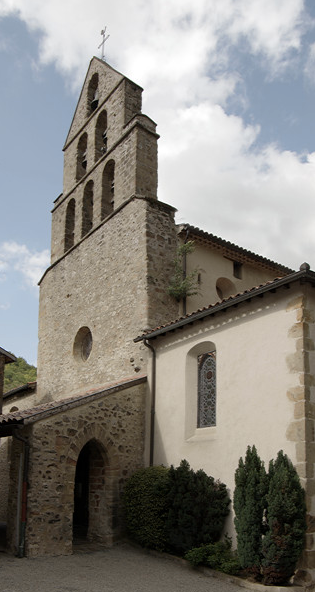 The
gîte
was an attractive modern chalet style house with off road parking in front.
The ground floor was open plan and very comfortably furnished with a well equipped kitchen. A staircase lead up to a mezzanine with a sitting area and a door to the balcony with views across to Montsegur. On a warm summers day this would be a very pleasant place to relax.
Electric heaters provided background heat and there was a large open wood burning fire. We didn't use this as we felt by the time we had got it lit and the place warm it would be time to go to bed!
We enjoyed the gîte and the area, and found Montferrier to be a good base. It was just a shame the weather let us down. Mornings often started bright and clear but we could see the cloud come down on the top of Montsegur as we ate our breakfast.
CONTENTS
#2 Impressions of Montferrier and the surrounding area
#3 St Bertrand de Comminges
#4 Foix
#5 Forges de Pyrène, Montgailhard
#6 A day exploring the small villages to the north of Montferrier
#7 Vals
#8 To the east of Montferrier - Château de Puivert.
#9 To the north east of Montferrier - Alet-les-Bains
#10 To the north east of Montferrier - St Salvayre
# 11 To the north east of Montferrier - St Polycarpe
#12 To the north east of Montferrier - Abbaye de St Hilaire
#13 To the north east of Montferrier - Carcassonne, La Cité
#14 To the north east of Montferrier, Carcassonne - Basiica St-Nazaire
#15 To the north east of Montferrier, Carcassonne - Château Comtal
#16 To the north east of Montferrier - Abbaye de Villelongue
#17 To the north east of Montferrier - Abbaye de St Papoul
#18 To the west of Montferrier - St Lizier

#19 To the west of Montferrier - St Lizier, Cathedral of St Girons
#20 To the west of Montferrier - St Lizier, Prefectural Museum of Ariège and Notre-Dame de Sède
#21 To the west of Montferrier -Montjoie-en-Couserans
#22 To the west of Montferrier - Audressein
#23 To the north west of Montferrier - To the Haute Garonne
#24 To the north west of Montferrier - Lezat-sur-Lèze
#25 To the north west of Montferrier - Rieux Volvestre
#26 To the north west of Montferrier - Montesque-Volvestre
Last edited: