To the west of Montferrier -Montjoie-en-Couserans
We had seen a sign to the fortified village of Montjoie off the D117 just east of St Girons. Driving up the road to the Prefectural Museum of Ariège in St Lizier, we saw another sign to it. Great we thought, it would solve the problems of getting lost in St Girons again.
Montjoie is a few kilometers north east of St Lizier and allegedly takes its name from the joy experienced by pilgrims on the Camino de Santiago at their first sight of St Lizier.
It is a
bastide town
founded in 1268 by the brother of St Louise IX and King of France. This was originally surrounded by a wall with towers at the four corners and entered by two gateways. Only the east gateway by the church survives.
It is a very attractive village with
houses
arranged around the fortified church.
Two big tower houses survive. One is now the Marie and still has slit windows in the tower and south wall. The other has been turned into a very attractive house.
Église Notre-Dame-de-l'Assomption is C12th but was fortified in the C14th during the Wars of Religion. It has a massive west end with two octagonal towers with pointed roofs on either side of a bell cote with space for five bells on two levels. Along the front is a battlement with a walkway and machicolations below. The nave is massive with a flat east end with two windows. On the north side is a later attached building.
The
west doorway
has pillars with carved capitals and pointed arches. Above is a small statue of the Virgin and Child in a small niche.
The door was open but a locked metal grille prevents entry into the church. It is an attractive building with two rows of round columns with carved capitals leading to the vaulted ceiling and a small Romanesque Apse at the east end. There is a large white
stone altar
with figures carved along the base and on the reredos above.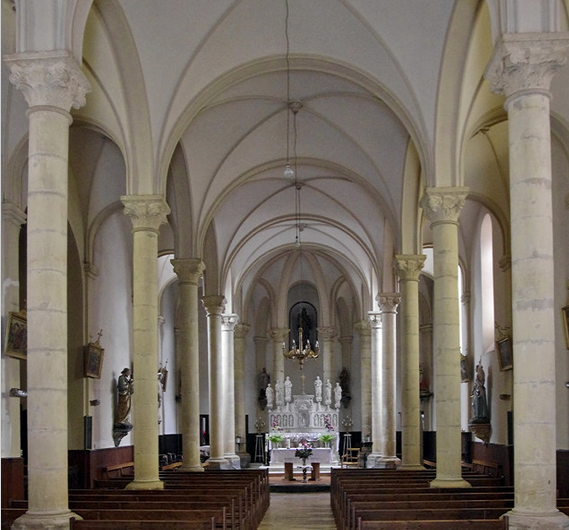 Not only is Montjoie a nice little village, this is the easy way from the D117 to the car parks at the top of St Lizier.