Trip report of a magical three weeks spent travelling through Bhutan in October/November 2009, originally posted on the Slow travel Forum.

As there are so many pictures, I have decided to break the trip report up into three parts. This is the first part and covers background information, Paro and Thimphu. The
second part
covers the drive from Thimphu to Punakaha, the Phobjika valley, Trongsa and Jakar. The
third part
covers the drive from Jakar to Mongar and then Trashigang and Trashi Yangsi, before leaving Bhutan by road at Samdrup Jonkar.
Background to the trip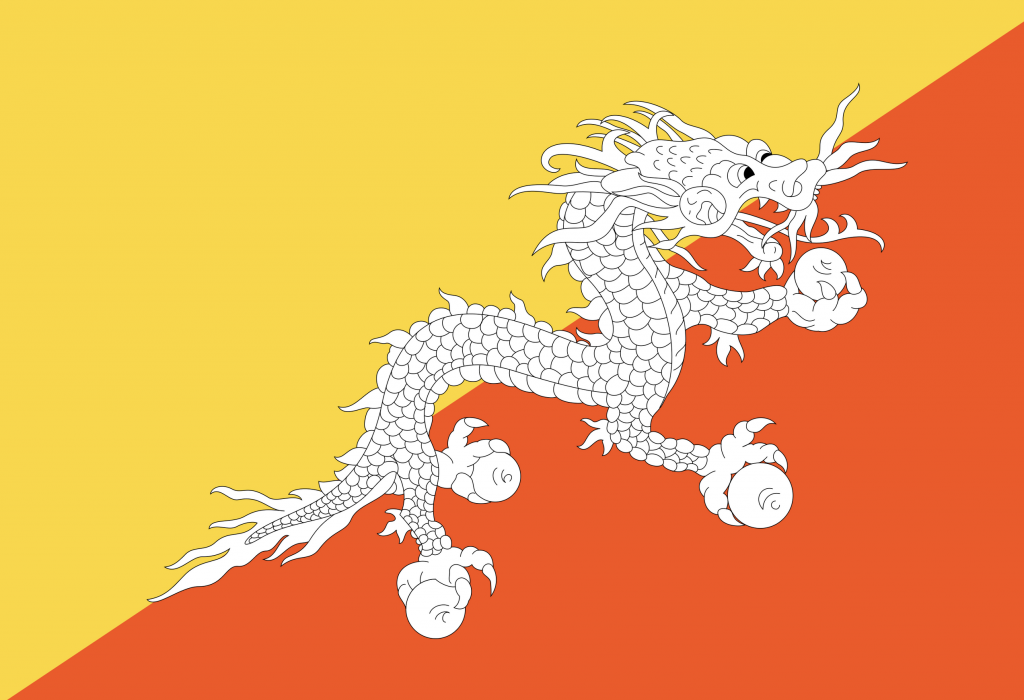 Many years ago we watched a programme presented by Michael Wood on the History of India. We were fascinated and India was added to our 'todo list' We started researching holidays and rapidly came to the conclusion that much of India would be too hotand possibly humid for us. At the back of one of the brochures were a few pages about holidays in Bhutan, a tiny mountain kingdom in the foothills of the Himalayas between India and the Tibetan Autonomous Region of China and to the west of Nepal. From not knowing anything about Bhutan, we were hooked by the pictures and descriptions.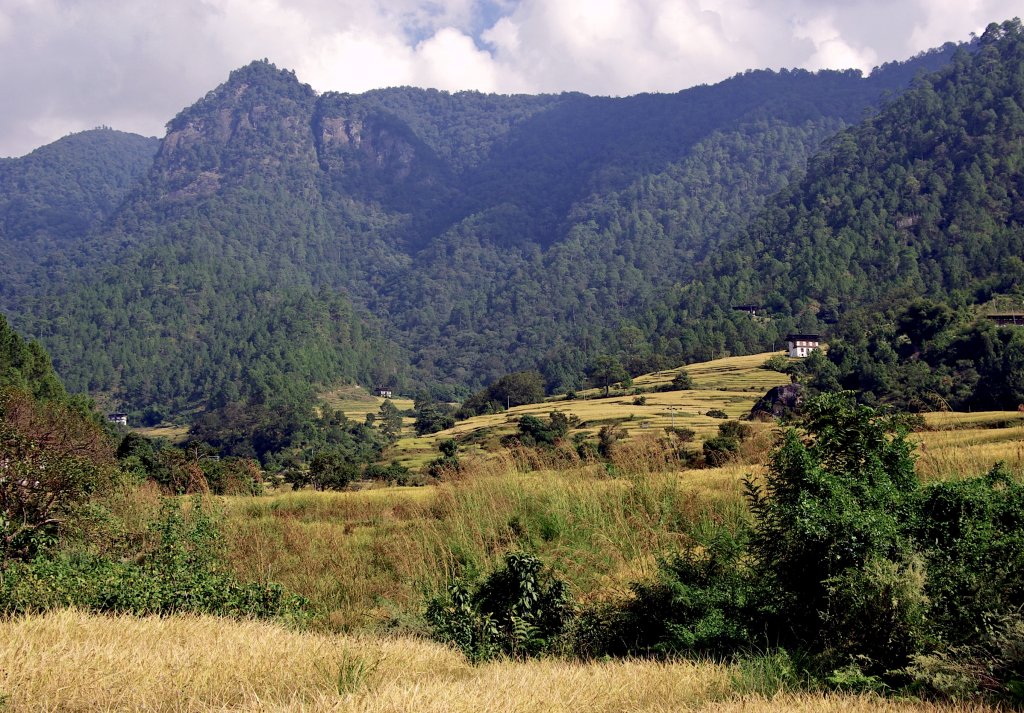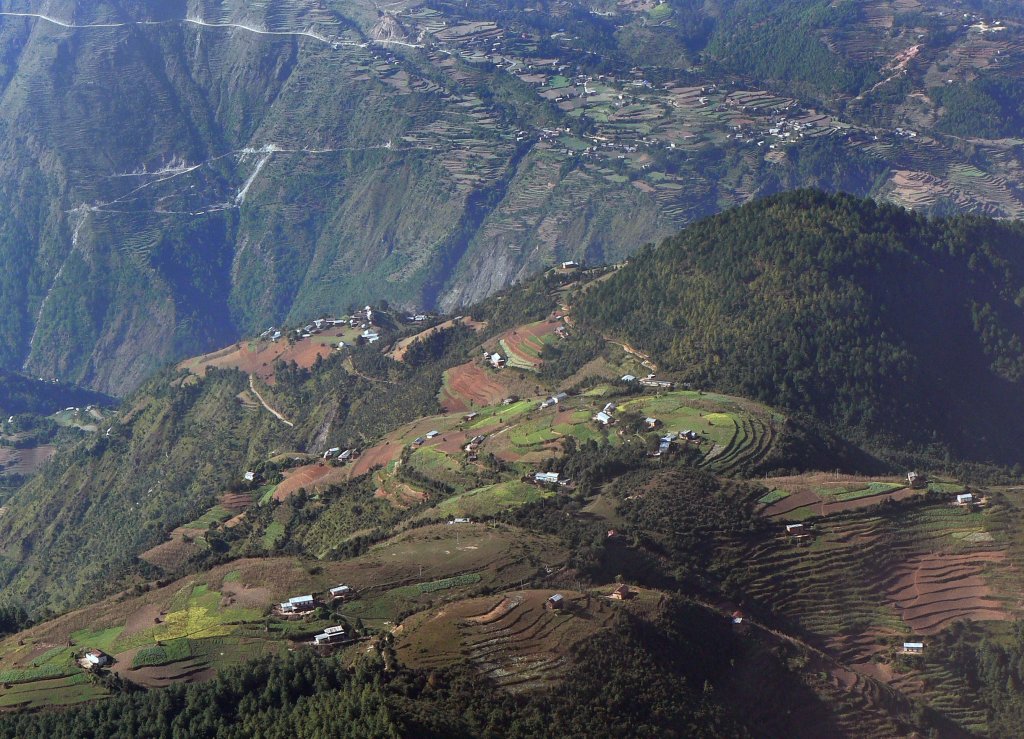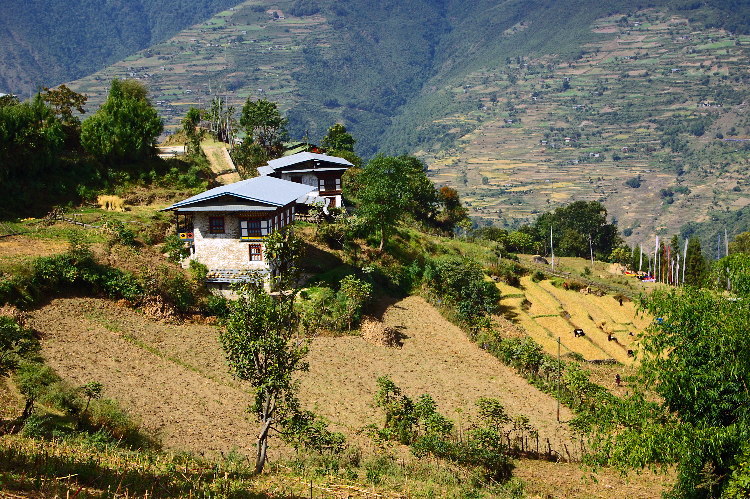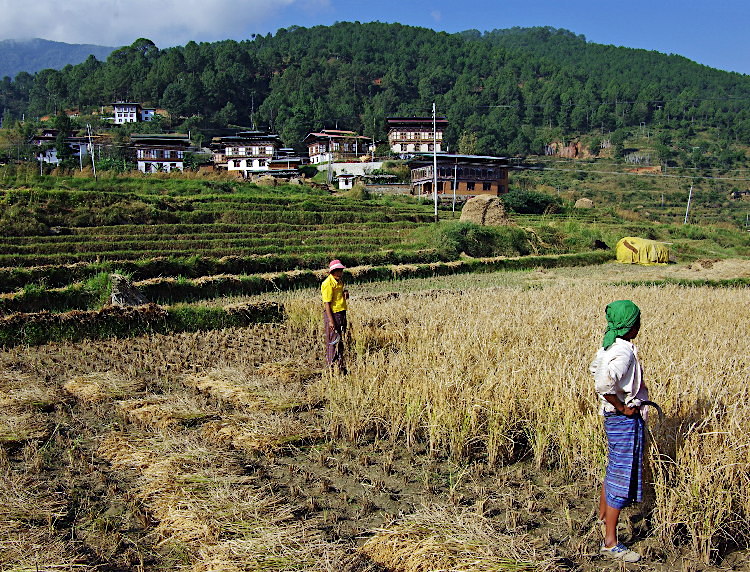 I'll start with the boring details as booking a holiday in Bhutan is very different. Bhutan is still only just being discovered by foreign tourists and tourism is carefully controlled by the Government so as not to have a negative impact on the culture and life of the Bhutanese.
Tourism
is controlled by the government which fixes prices and rules local agents must follow. Unless you are an Indian national, you are only allowed to enter if you have a prepaid and pre planned itinerary with a Bhutanese Tour Company. You are accompanied by driver and guide throughout your time in Bhutan. You pay a set tariff per day which covers cost of car, driver, guide, accommodation and all meals. If you are trekking it also includes horses, porters, camping equipment and cooks.
The price per day depends on the time of year and the number of people. Up to date details on prices can be found
here.
This may initially sound expensive, but once in Bhutan, daily costs are very low as all food and accommodation has been paid for. Although Bhutan has its own currency, the Indian rupee is accepted as legal tender. Make sure you have low value notes as high value noters can cause problems.
You have to fly at least one way - a way of controlling tourist numbers. If flying from Delhi or Katmandu, try and get a seat on the left hand side of the aeroplane as that gives marvellous views of Everest as you fly over the Himalayas.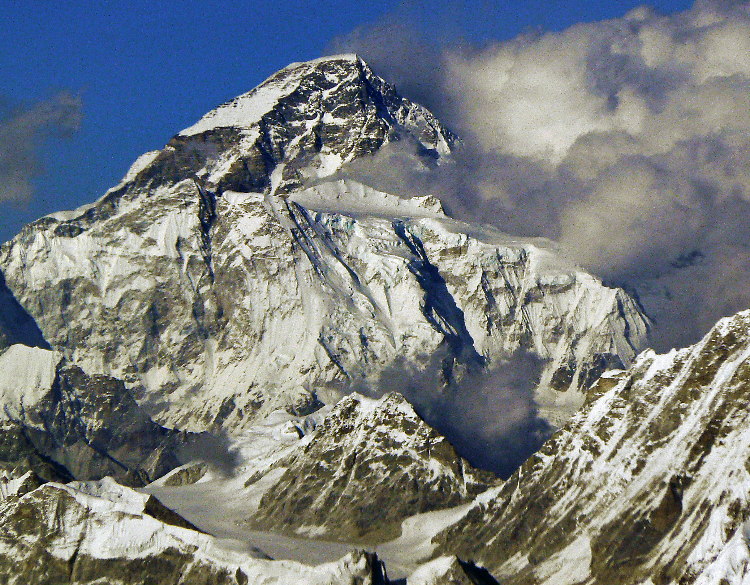 Paro Airport is surrounded by mountains and climatic conditions, particularly strong winds which are worse in the afternoon, can result in cancelled flights. Make sure your itinerary has a contingency plan for this!
By road, you can enter or leave at Phuentsholing in the south or at Samdrup Jonkar in the far east. BE WARNED if you decide to leave by road, make sure Bhutanese officials stamp your passport with an exit stamp - otherwise you won't be allowed into India!
It is possible to book direct with a local agent in Bhutan. However many of these are small and email contact can be slow if they are out guiding, or if there is a local festival when all work stops.
We booked through
Audley Travel
based at Witney in the UK who we used for all our tailor made trips. They used
Druk Executive Travel
in Thimphu.
Visas are needed to enter Bhutan. These are arranged by the local agents and sent to you a few days before you are due to leave.
We decided to fly in from Delhi, drive across Bhutan and then drive out at Samdrup Jonkar into India to Guwahati and get the train back to Delhi. There is only one road across Bhutan so the itinerary is fairly fixed.
We wanted to travel slowly and allow ourselves plenty of time to enjoy the countryside and the spectacular sights. We came up with the following itinerary.
Fly from Delhi to Paro
PARO
4 nights, spending a day round Paro itself, a day exploring the Paro valley and a day visiting Haa.
THIMPHU
3 nights for some of the major attractions around Thimphu.
PUNAKA
: 2 nights.
PHOBJIKA
: 2 nights.
TRONGSA
: 1night.
JAKAR
3 nights, spent visiting the Bumthang Valley and day visiting the small villages of Shingkar and Ura
MONGAR
: 1 night
TASHIGANG
: 3 nights visiting Tashi Yangsi and Rajung and Radi.
To Sandrup Jonkar to Guwahati for 1 night before catching the train back to Delhi.
We did travel along some of the side roads off the main road and found them very rewarding. The main road is narrow with many bends and often cut on a ledge across the side of the mountain with a steep drop into the valley below. Journey times are long.
We welcomed the opportunity to get out and walk along the road to see what was growing in the fields, enjoy the views and explore some of the tiny settlements off the road.
When we visited, accommodation was still fairly basic, particularly in the east, although there were a few 5* resorts being developed which charged serious money to stay. Since we visited, many large and modern hotels have opened and accommodation is of a much higher standard. Power cuts can be a problem, so travel with a torch.
The Bhutanese are delightful people and went out of their way to make us feel welcome. Once or twice we did blink when we saw our room but it always had great character. We had en suite bathrooms (some very basic in the east) and all accommodation was very clean and beds were comfortable.
JAKAR
Last edited: