January 2nd
After a very full week between Christmas and New Years Eve in London, we returned to Southampton on New Years day and than on the following day, headed off toward Cornwall. This was a Wednesday, and as our cottage in Mousehole wasn't going to be available until the Thursday, we decided to break the journey in half, and stay in Exeter on the Wednesday night.
Drew and Keith drove in their car and we in a rental; a 6 gear manual Vauxhall Astra Turbo' with just 700 miles on the clock. It was brilliant throughout the three weeks.
Drew had lost his favourite hat, so decided that as we would pass through Bridport where he had bought it, we would stop for morning tea, then on to Lyme Regis for lunch and Exeter for the night.
T. Snook Hatters and Outfitters isn't just any old hat shop. It's such an institution that since 2012, they now have an annual Hat Festival, that attracts some 9,000 people.
https://www.dorsetlife.co.uk/2013/09/bridport-hat-festival/
I don't know that it will be attracting Drew. Despite have phoned ahead to determine they would be open and that he was looking to replace a lost favourite, he arrived to find they were closing for lunch.
It was market day so parking was difficult to find and the café we had arranged as a meeting place was changed by text message without a clear direction to the alternative. I spat my dummy (pacifier).
The least said, the better. Then again. I had been looking forward to sharing Lyme Regis with Drew and Keith, however the decision was made that as they had just eaten in Bridport, while we had not, so we would just go on to Exeter where I had booked an Airbnb.
The reality. They went to Lyme Regis while we arrived in Exeter an hour or so ahead of them. In a foul mood and Ches upset, we passed through Chideock. I guess most people just pass through Chideock. It's a main road, and consequently the traffic is never ending and fairly heavy. If you like thatched cottages, then this is a town that is thatch from end to end, however most is on this main road and unless you can find a way to turn off and park, there won't be any opportunity to photograph them. It probably explains why there are so few images on the internet.
The other point of interest is that this is a town that is still predominantly Catholic and always was. Consequently, it didn't; fair too well under Henry V111 and then the Civil War.
https://en.wikipedia.org/wiki/Chideock
Ches was so upset, she didn't even register the town as we drove through.
Our Airbnb was across the river from the center of town however close enough to walk to the Cathedral in around 15 minutes. With limited daylight left, once Drew and Keith arrived, we walked into town where Ches and Keith entered the Cathedral while I walked around the precinct and photographed as the light dwindled.
At the time, I didn't appreciate that all the hording and scaffolding in the top corner of the Cathedral Green was the remains of the Royal Clarence Hotel. England's oldest hotel had burned down in 2016 and restoration isn't progressing too well. We were only told about what had and is happening by locals when we revisited some weeks later.
After some "retail therapy" in shops on the main street that were closing down, we set off in search of our pub/brewery for dinner. We were keeping our "pig" theme going. The "Fat Pig" is a micro brewery pub and I guess after a "trying' day, it just didn't make a significant impression. The barman was indifferent, there were only a couple of people in the bar and we were tired. The "Spiced winter vegetable and red lentil stew, crème fraiche & crusty bread - £15" was excellent, however I can't remember much about the beers.
We were back at our Airbnb by 9:15. A two bedroom apartment just across the river where parking was easier than in the heart of the town. Our hostess had moved in with her boyfriend for the night, and left the heaters on and a very old building with a comfortable flat that we'd stay in again.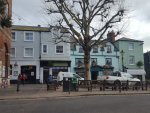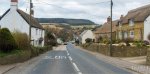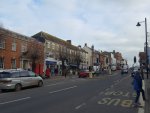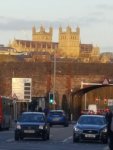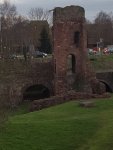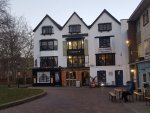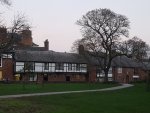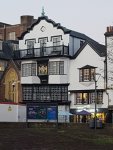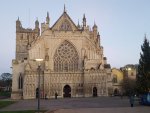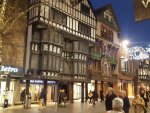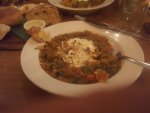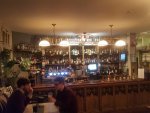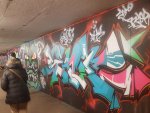 Last edited: