Travel day, driving from Lenk in Switzerland to Samoens in a France. The 3 1/2 hour drive took all day.
We left Lenk around 10:30. We stopped in Saanen, near Gstaad, to have a walk through the village. Things have changed. Their is a tunnel bypass so the main road no longer goes thru town. The center of town is pedestrian and there is a large underground parking lot. We used to drive along the Main Street and park. Now it is set up like a mini Gstaad. But it still feels like the old Saanen. The shops are all the same.
They were having a cheese market, with tables set up for local cheese makers. Lots of samples. I tried some, and it was good, but it is a very plain cheese.
The day was sunny and warm. We drove out the Gstaad valley, through beautiful mountains, to the area east of Lake Geneva. Then we followed the southern shore of the lake. We stopped in Saint Gingolph, a lakeside town on the border. We had a nice lunch on the Swiss side, but they were busy and the service was painfully slow. Steve had a lake fish, I had the vegetable plate. We skipped coffee or we would still be there.
We drove along the lake and through Evian, a beautiful and busy lakeside town. Then we turned south and into the alps. It was a beautiful drive. Much of it looked like Switzerland, especially the houses - wooden chalets. But the cows in France don't wear bells!
We got checked into our apartment which is not as perfect as our Lenk one but is nice. We can walk into town. Samoens is small. We had a quick walk around.
We have a laundry room here! Laundry is all done and hanging. Can't wait to get out and see this area tomorrow.
I first heard of this area years ago because someone I followed on Twitter owns a vacation rental here. Then I read more about it and thought we might like it. There is a lot of hiking, but no mountain rides to make it easy.
When were at the Carrefour market a herd of cows went by. But no bells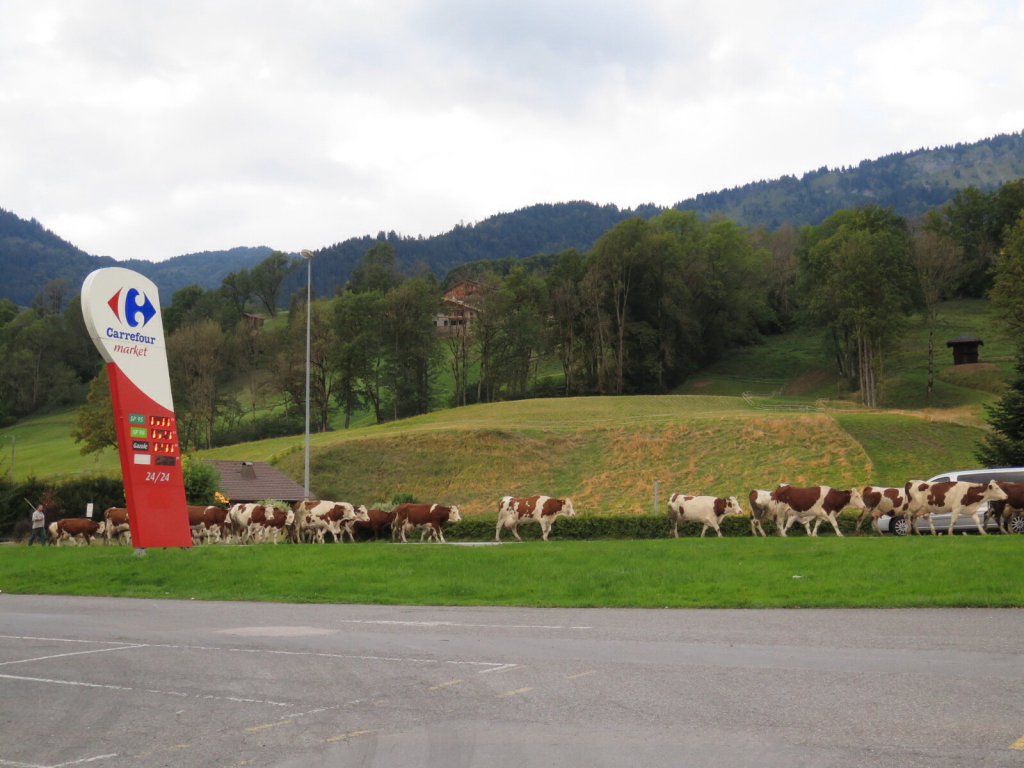 Photo of the view of the mountains from our vacation rental.