Where: London, near Westminster Abbey
Travelers: Husband and me
When: 5 nights, September 2011
What: 1bed/1bath
https://londonconnection.com/property/1-46-parliament-square/
We love staying in apartments whenever possible—you can spread out more, save a little money and feel more "at home" than in a hotel. This apartment is nice if a bit sterile. It has no AC but thankfully the nights were cool. The bed was a "queen" which is more like a double in the US, so a bit small since we're used to a king. It is right alongside another building which happens to be under construction and wrapped in white sheeting. Not pretty.
But: go down two floors, go out the door, turn left and walk a half a block and you see Westminster Abbey! Fabulous! It's also just a couple of blocks from St. James underground and a bus stop. Really amazing location for first timers in London!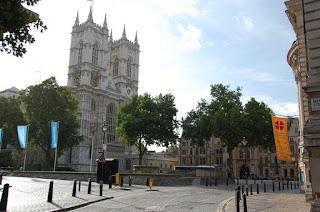 This apartment was small but comfortable and perfectly adequate. The location was perfect for us. We would stay there again and recommend it to anyone. We will be staying in a larger londonconnection.com apartment in July 2015.