At the last minute I booked a week in a holiday apartment in Lyme Regis. We are planing to move to this area and wanted to see it in high season, and it doesn't get any higher than this - the first week of August, during the Lyme Regis Regatta (a festival mostly for kids).
There was not much to choose from for rentals and as I made my shortlist places had to be removed because they were being booked. We ended up in an expensive apartment, with a discount for booking late, right in the center of the action, on Marine Parade, on the beach. It was a hotel but last year was turned into apartments. The apartment is small but perfect. We are on the second floor (US third) with tri-fold windows that make it feel like the whole apartment is a balcony when open.
It is morning as I tap this into my iPad and all I hear is the waves. There are a few people about and the restaurant directly below us has not opened. Yesterday we went for a walk along the sea in the morning, had breakfast, then went for a swim. We will do the same today.
By 10:30 people start arriving at the beach and the sounds of the waves merge with voices and activity. It is a bit of a zoo, but really fun. We are in front of the rocky beach and most of the action takes place closer to the Cobb on the sandy beach.
Lyme Regis is small, under 4,000, but full of shops, cafes and restaurants. Many are independent business and there are art galleries too. It feels like a funky California beach town. The center of town is historic and starts at the seaside then spreads up the hill. I think it was a popular resort once the railways were built.
The beach area is long, with the Cobb at the western end, the town center in the middle and a new long walkway at the eastern end. There are large gardens near the Cobb.
On the Cobb looking towards the town, tide out.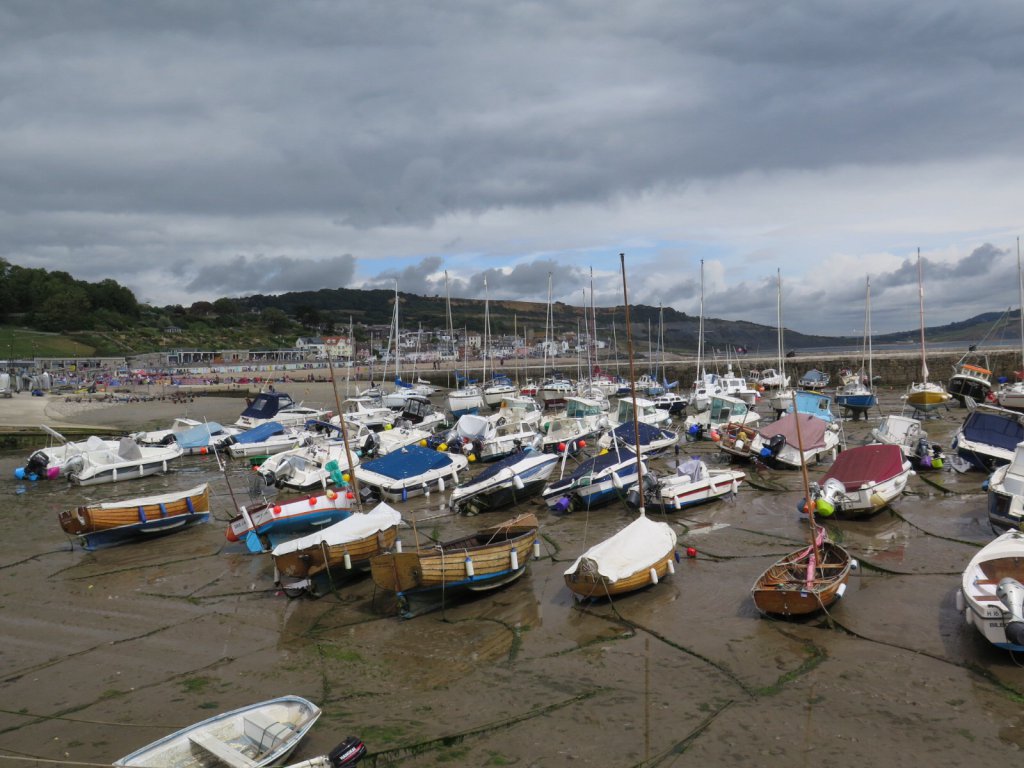 We are beside the large gardens. Looking from the top to the Cobb.