Date of Stay: September 2014, 2 weeks
Link:
Interhome - Apartment Buggeli I
4 star
Local Agency:
www.ferienlenk.ch
Lenk Tourist Website:
www.lenk-simmental.ch
Trip Report:
Posted on the forums
We booked this apartment through Interhome because they have a good selection for Lenk and it was easy to make the booking. The apartment was larger than we needed and expensive ($1000 per week), but I loved the look of it and many of the other places for rent seemed drab.
The only downside of this apartment is that you need a car to stay here. It is on the outskirts of Lenk and a bus goes by once an hour. It is on a steep and narrow, but paved, mountain road that continues on to a hamlet (Brandegg) and further on ends at Buhlberg where there is parking, a restaurant, and hiking trails. It takes 7 minutes to drive to the chalet from the center of Lenk and the first few times we did the drive, it was terrifying. However we quickly figured out where the pullouts are, where you can get a good look ahead on the road, and drove it with no problem.
The apartment is in a new chalet in a complex of three chalets, two in front side by side and another behind. This is in one of the front ones. In this chalet there are three apartments - one on the ground floor and two above. Each of the upper ones is on two floors. The two upper apartments are vacation rentals - Buggeli 1 and Buggeli 2.
Parking is in front and there is a garage (we didn't use it but parked in front of it). You walk up two flights of stairs to get to the front door. The chalet is built into the hillside, so the front door is on ground level at the back of the chalet.
Everything is beautifully built and new. The apartment is open, light and spacious with wood floors throughout. Fabulous bathrooms and kitchen. Comfortable beds and furniture. Good wifi and TV set. Floor to ceiling windows onto a terrace and an amazing view. You are well above Lenk and look out to the mountain tops and down on the town. Good sized terrace, but it is beside the other apartment's terrace and above the terrace of the one below, so not private.
You can walk from the apartment along the mountain road but it is somewhat steep. You can walk to a trail about 1/2 mile up the road that takes you out into the countryside. Not many cars go by. There are other chalets around, but you feel like you are up in the mountains. We tended to be out all day hiking, stop in town after for supplies and then be in for the night.
We loved Lenk as a hiking destination. We had stayed in nearby Gstaad and Saanen several times (and have hiked in many other Bernese Oberland valleys), but wanted to try Lenk this time, and it will be Lenk that we return to now. Gstaad was always too fashionable, but it has now spread out into the valley and Saanen is much more built up. It used to be a sleepy town, but now has a big underground parking lot and new chalet style apartments. It is easy to get to the Gstaad-Saanen area from Lenk by car or train (45mins to Gstaad). Two of our favorite Gstaad-Saanen hikes start in Zwiesimmen, which is only 15mins from Lenk. And there is great hiking in Lenk. Passes for mountain rides in Lenk are reasonable, and you can buy a pass for the Gstaad hikes too.
Read more about the hiking on my
trip report
.
Photo - view from the terrace.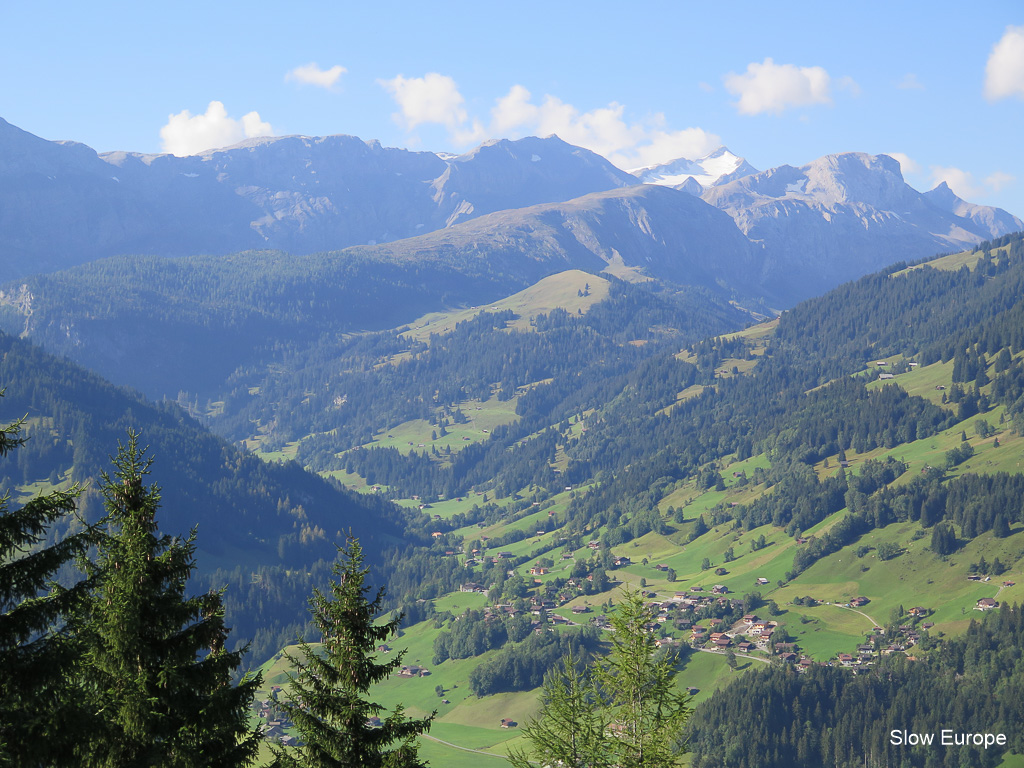 Last edited: