Well that is it, our last full day in Switzerland.
It was sunny and clear this morning but clouds moved in mid-afternoon. This was our coolest day, 55F. We hiked wearing our light fleeces for the first time. It even rained a bit, but after our hike.
We took the Betelberg gondola again - our fourth time hiking from the top (Leiterli). We got good use from the passes our landlady gave us. This time we walked back to Lenk on the longest path. It was a 4 1/2 hour walk and we managed to do it in that time.
The first hour was straight back from Leiterli, up to the top of the hills, where we walked last week. Then we continued along the hill top on a very narrow ridge. We were walking along the top. Some parts were very steep drop offs. It was nerve wracking, but it was only 15 mins. From there we walked at the same level around the top of the valley. The first two hours of the walk were sunny and fabulous. Then we had an hour of gentle downhill, but through a boggy area. It wasn't too bad. Lots of springs, some muddy parts. We met up with the trail we were on yesterday for the last 1 1/2 hours, including the lovely walk in the woods along the river.
We were both exhausted by the end and my feet, calves and knees hurt. I am reading Shirley MacLaine's book about walking the Camino now and wonder how I could ever do a 10 hour walk. We have done them, but years ago. Anyway, I pretended I was on the Camino
.
My big treat - we went to a cafe and I had a hot chocolate drink! It has been too hot until today to have one. Usually you get a cup of hot milk and a package of Caotina chocolate mix and you add it to the milk and stir. This cafe offered a homemade hot chocolate and it was very hot and very delicious.
Now we are packing up and tomorrow we drive to Samoens in the French Alps for our last week. I will start a new thread. Packing is easy because on these hiking vacations (and at home in a England) we keep all our hiking gear in the boot (trunk) of the car. So much of our stuff is ready to go.
We have been missing very good weather in England. It has been sunny and warm. But we had very. Good weather here. Samoens seems to be 10F warmer than here.
I am ready to sit in a French cafe, to have good croissants, for lower prices and to explore a new area, but we had a great two weeks here!
Photo of the valley we hiked down.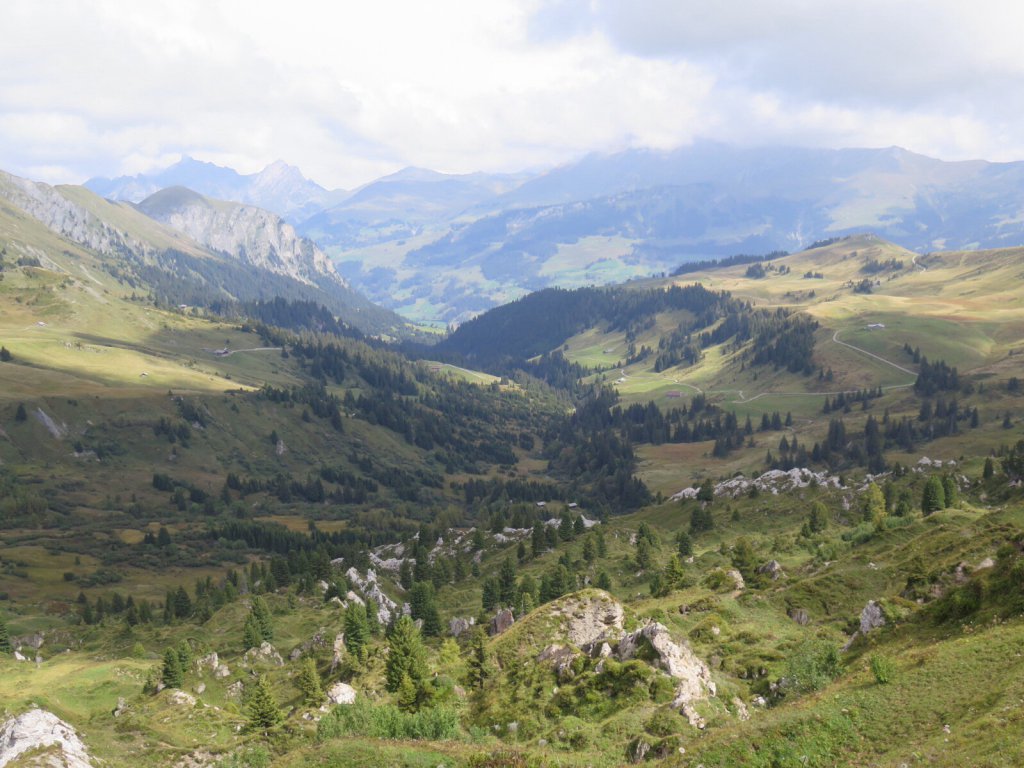 Photo of the narrow ridge we walked along.