Yesterday Steve and I, along with Jonathan (who lives nearby) and Kathy and Charley Wood (from the US, here doing their
European Experiences
tours of the Cotswolds), walked part of the Monarch's Way Long Distance Trail. We walked 7 3/4 miles from Chipping Campden to Moreton-in-Marsh. Me, Steve and Jonathan drove up to Moreton and met Kathy and Charley. We left our car there and we all drove back to Chipping Campden, where they are staying. This way we could do a point to point walk.
To do the walk we used route notes from
Cotswold Walks
"Cotswold Ring" Walk - a five day walk from Cheltenham to Bourton-on-the-Water. This part was Day 4. I know Andrew who runs Cotswold Walks and he gave me these route notes to try out. (For anyone wanting to book a self-guided walking tour of the Cotswolds, his notes are excellent. Detailed maps, photos, detailed walking descriptions.)
We were on the Monarch's Way for the whole walk. This is not a National Trail (like the Cotswold Way), so is not as well marked. I have been spoiled by walking on the Cotswold Way, where you never need to consult a map or route notes because there are so many markers.
The trail is 615 miles long and follows the route that Charles II took after the Battle of Worcester in 1651 when escaping from England and the Parliamentarians.
The execution of King Charles I in 1649 marked the start of Oliver Cromwell's Protectorate, during which the monarchy was outlawed. The battle of Worcester in 1651 was a brief, and unsuccessful, attempt by the Royalists to seize power. After the battle Charles II fled with the help and protection of Royalists who were hoping to see him in power some day. Cromwell died in 1658; his son Richard wasn't a convincing leader, and the Royalists shipped Charles over from Holland in 1660, and he was crowned soon after (The Restoration). (Jonathan provided me with this summary.)
As Jonathan says: "So back in 1651 Charles II was a 21-yr-old son of an executed king, fleeing the ruling Parliamentarians."
From the
Monarch's Way
website: "Charles II traveled for six weeks, pursued by Parliamentary forces under Oliver Cromwell. He travelled first north towards Wales, then south through the Cotswolds and the Mendips to the South Coast, and finally along the South Downs to Shoreham where he made his escape to France."
Below is the route map from the
Monarch's Way
website.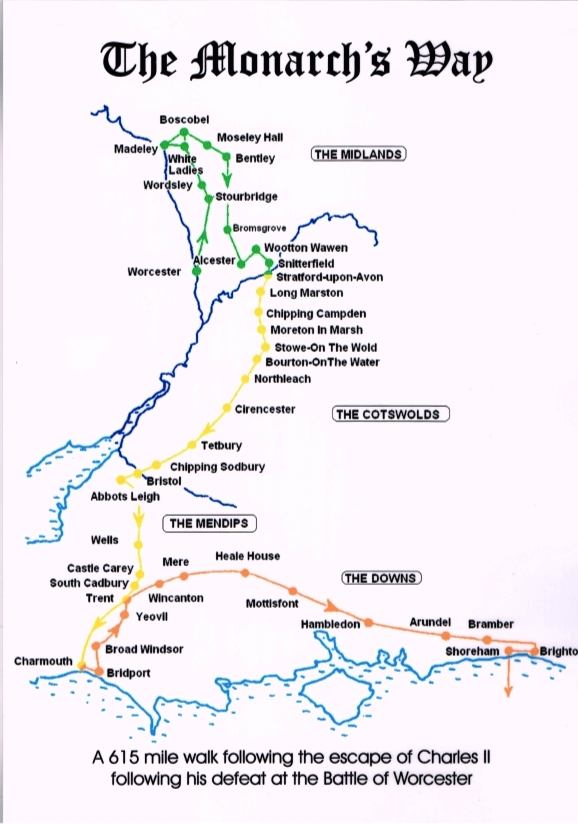 Photo of our group walking in fields near Batsford Arboretum. You can see the "ridge and furrow" marks left when this field was farmed in the Middle Ages. (On other walks we have seen "strip lynchets", similar ridges on a slope which some think were intentionally made in the Middle Ages, but others think are naturally formed over time.)