100+ Posts
Contest 2019 Winner!
The Pyrenees and the Luberon, Sept. 22 – Oct. 8, 2022 - Part 1: Martigues to Minerve

Why we were there:
The genesis of this trip was the Slow Europe Contest in 2019. My name was drawn 6th. I held my breath as the Italian options disappeared. I was able to select a ½ price week in Kathy Wood's wonderful rental in Bonnieux in the Luberon region of France – my #1 pick in any contest. We had visited the region 3 times previously, but not for more than a decade. We invited our younger son & our daughter-in-law to join us for the week in Bonnieux, after they spent a week in Dublin. Then Covid hit. Three years later we were able to claim our prize. Kathy Wood was more than understanding, as I had to cancel our booking at least twice.
Before our week in the Luberon, I decided to spend a week over in the Pyrenees, based in a small house in Lagrasse for 6 nights, with one night a couple of hours south in the town of Prades.
Also, on arrival in Marseille, I had booked 2 nights in a hotel in Martigues, a seaside community under an hour from the Marseille Airport.
So, Martigues, Lagrasse, Prades, Bonnieux. Some plans change.
Planning:
Since I was quite familiar with the Luberon region from previous visits, most of my research involved the Pyrenees portion of our trip. I was most intrigued by the Cathar connection to this part of the world. My knowledge of the Cathars was both slight and wrong.
The most engaging source about the Cathars was a work of fiction –
Labyrinth
by Kate Mosse. Another source was
Montsegur and the Mystery of the Cathars
by Jean Markle. I found this a bit of a slog, possibly because it has been translated from the original French.
I can recommend two books by the British writer, Rosemary Bailey.
Life in a Postcard: Escape to the French Pyrenees
is a memoir of the partial restoration of a monastery near the village of Mosset.
Love and War in the Pyrenees: A Story of Courage, Fear and Hope, 1939-1944
is a sad history of a very difficult time in this part of the world. Being there makes the story much more real.
And, of course, there is a guide book.
The Rough Guide to Languedoc & Roussillon
is excellent.
Flights:
Air Canada from Ottawa to Marseille & Lufthansa on return, with connecting flights from Montreal both ways, and Brussels on the way over, Munich on the return. Brussels & Munich airports were a challenge.
Accommodations:
The biggest decisions were where to stay, for how long and in what accommodations. Below are the results after much consideration.
Martigues
- 2 nights –
Hotel Le 5
– modest hotel in a great location. The friendly, young owner lives in the hotel. Park your car in the hotel lot, walk everywhere; OK breakfast; very reasonable cost. Recommended
Lagrasse
- 7 nights – I booked a week in a small house in the village, planning to spend one night away, in Prades. We stayed 2 nights in Prades & left a day early to go to Arles. We paid for 7 nights, stayed 4.
Prades
- 2 nights –
Best Western Le Vauban
– Well, we liked this hotel a lot! Recommended
Arles
– 1 night -
Best Western Hotel Atrium
– tourist/tour bus hotel in a great location.
Bonnieux
-7 nights –
Bonheur in Bonnieux
– Kathy Wood's lovely apartment in the middle of Bonnieux. Superior accommodation.
Car Rental:
We rented a Lynk & CO SUV from Europcar. It was an excellent, if not economical, option
Times & Places

Arrival - Days 1-2

Martigues
is a lively seaside town of bridges and water and one-way streets – lots of vehicles and boats! Less than an hour from the airport in Marseille. Two nights in Martigues. We parked our rental at the hotel & walked around – just what I want to do after hours in the air and airports. Pedestrianized central area, many dining options. The restaurant recommendation from the hotel owner was very good – so nice we went there twice! Historical section, shops, pharmacy, cafes, a beach, relaxing stay. Maybe worth a day trip if you are in the area. I liked Martigues.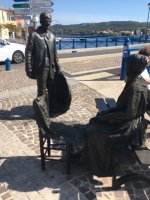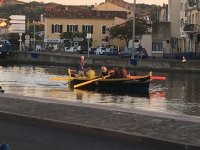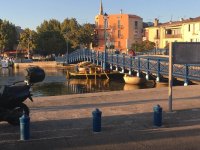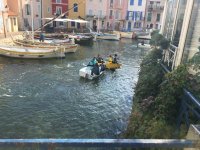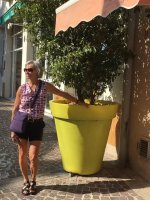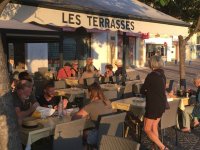 Pyrenees - Days 3-8

Aigues Mortes
(Dead Waters) is a walled-town in the Camargue, founded by the French king known as Saint Louis (as in Missouri), the starting point of 2 Crusades – including the disastrous, insane Children's Crusade. The area was an early casualty of rising waters – two products of the region are sea salt and rice. The town has some charms and a lot of commerce. Aigues Mortes is a very popular day-trip from regions near and far. An intriguing name and history, glad we visited for a few hours on our way to the Pyrenees.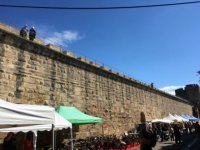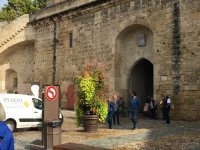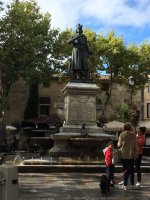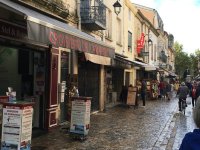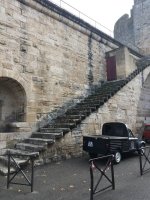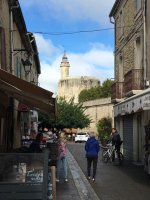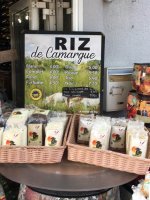 Lagrasse
is a town in the Pyrenees. Highly regarded by some, I think we missed the best of the community – late in the season, poor weather, not much to do, dissatisfied with our accommodations. BUT it has a great history, including a large, impressive abbey that was a very powerful political centre in the south of France/northern Spain for centuries AND proximity to the walled city of Carcassonne. Maybe a base for a few, i.e. 3-4. days, but no more, in my opinion.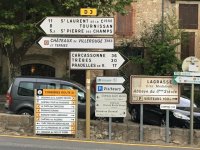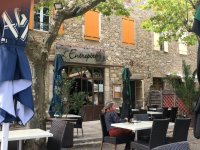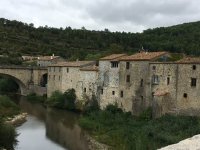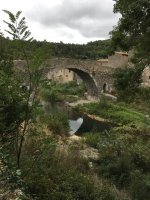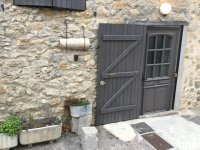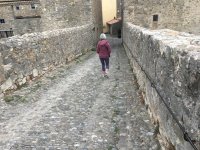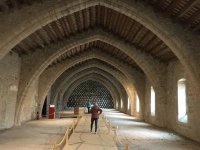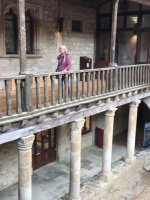 Carcassonne
, the tourist magnet in the Languedoc, less than an hour from Lagrasse, is a famously well-preserved medieval walled town on a hill, dominating the surrounding area. The modern town, down the hill & over the Aude River, is a couple of kilometres walk away – a pleasant walk to the walled town, but uphill for the last bit. Carcassonne is a bustling centre of commerce – a place to have a good lunch & shop for … whatever. And busy. Not quite what I was expecting, still a rewarding experience. Recommended.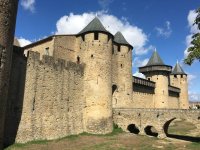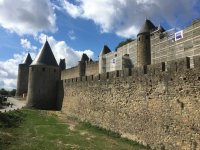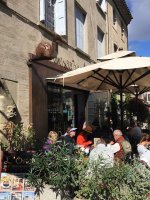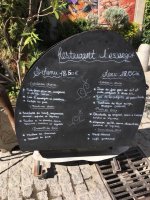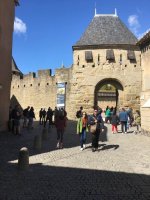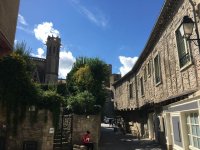 Minerve
, an hour+ north of Lagrasse on narrow, winding roads, occupies a dramatic setting on top of the gorge of the River Cesse. It is one of "Les Plus Beaux Villages de France". Minerve was a Cathar stronghold, destroyed by a Christian force under Simon de Montfort in 1210. Unique. Minerve is a remarkable place to visit. Our best day in the area!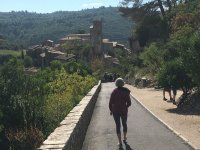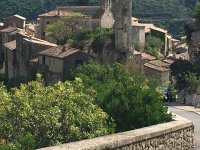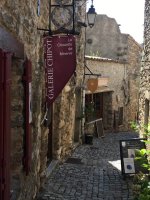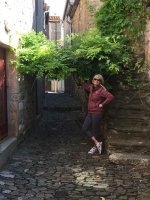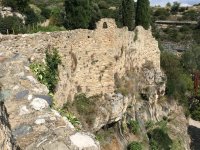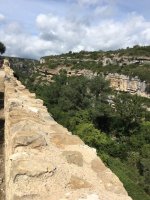 Last edited: