Zak and Gary from Italy on holiday in the UK to visit castles and gardens, June 6 - 16
Day 1, Tuesday 6 June
The drive up from Florence to Bologna was a leisurely cruise along the newly opened scenic mega highway over the Apennines. This trip started well, and with a 10am departure time from Bologna, we had decided to drive up the evening before, stay at a hotel where we can leave our car, and take a taxi to the airport that's only about 2 km away. At the My One Hotel Bologna, Gianluca, the helpful concierge, told us to drive the car to their underground garage and at 4 Euros per day, this beats any other parking deal at the airport. One last proper Italian dinner at Trattoria del Pontelungo and we were set for the trip. Luckily, the taxi driver knew his way thru the back streets since the highway had become a parking lot in the morning rush hour.
We'd gotten 'cheap' tickets on Ryanair from Bologna to Manchester, but with better seats and luggage, it does add up. It was a full but uneventful flight, only hitch in Manchester is the car rental, you have to take a shuttle bus from the terminal out to the rental lots. We got talked into a little bit of an upgrade with insurance, and off we took with just a few vague directions and a blurry map from Google.
I take my hat off to the city of Manchester, the ring road was new and clean with good signage, as we headed towards our destination in Yorkshire, about 1 and a half hour drive thru Leeds to the old-fashioned spa-town of Harrogate.
The
RHS (Royal Horticultural Society) garden
next to town was setting up for its first ever big extravaganza garden show on this weekend, and there were tents coming up all over the lawns.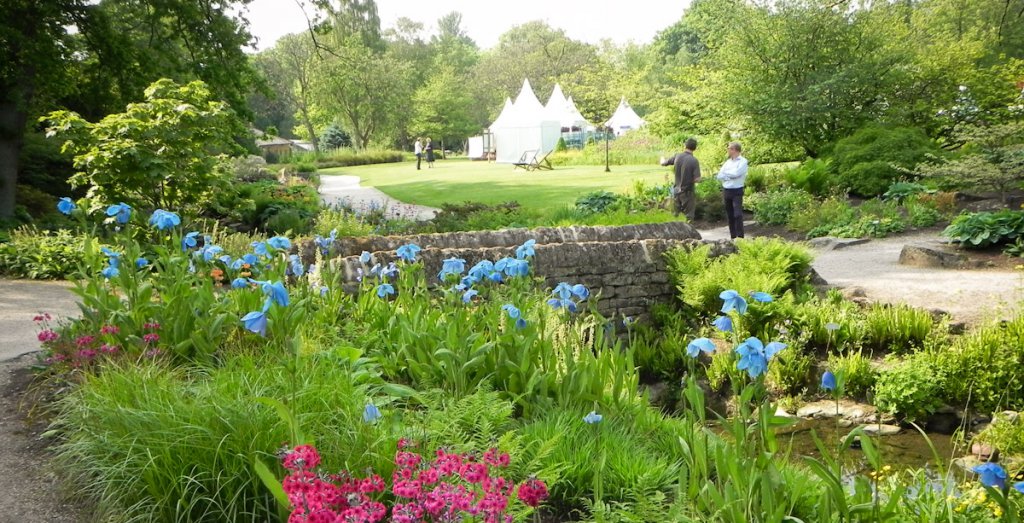 This garden is famous for its beautiful creek-side long garden, and this early in the season, the blue Himalayan poppies were a spectacular sight amongst some pretty sculptures of birds and animals.
There are still lilacs and rhodos in boom with sweet wildflowers filling in the gaps waiting for the summer borders to fully grow in with perennials in the coming weeks. I was actually looking more at the stately trees that shade this creek-side planting scheme, the many birches, maples, ashes and oaks and a multitude of giant conifers. For the home gardener, there's a sizable area of smaller scale rock gardens featuring dwarf and miniature conifers putting on new shoots in all colors. The subtle statues along the creek and in the adjacent woods are quite marvelous!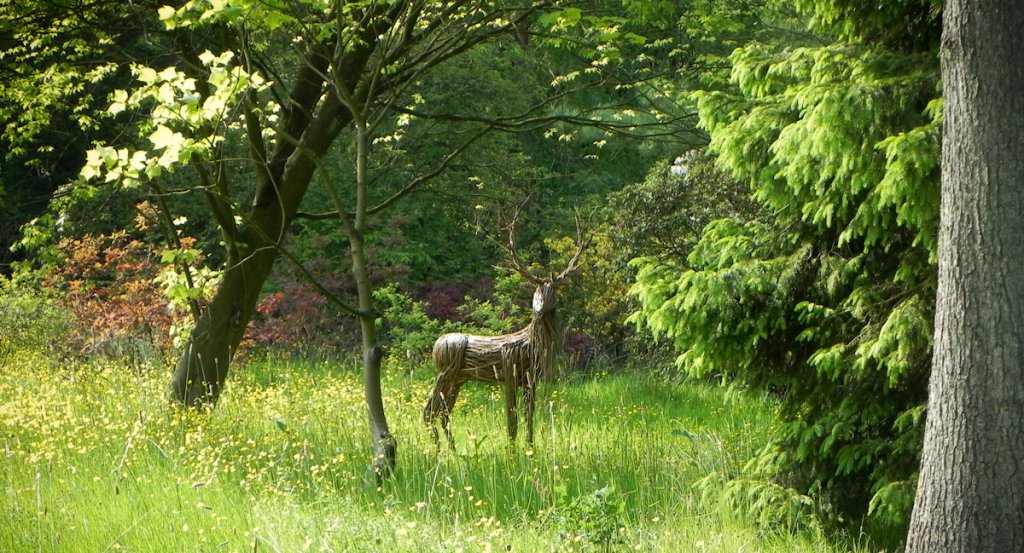 The surprise for me here was the vast alpine greenhouse with elevated beds in sand and scree for cushion plans, with beautiful jewel color flowers to gray and green sedums, carnations and hundreds of others.
We made a quick escape thru the huge nursery and gift shop/bookstore, but I went back to take photos on Friday afternoon just before closing when it was quiet.
Driving in the local 5.30pm rush hour up north from Harrogate, we managed to buy a proper street map at a service station and easily found our way to the town of Bedale to pick up groceries on the way to our barn apartment rental in the little village of Carthorpe. The local pub here is the Fox and Hounds, with warm hospitality and very good meals. Many pubs are upgrading their food to appeal to tourists and with a recommendation in every Michelin guide since 2008, this cozy little pub is well on its way.
Last edited: