This trip report covers a week we spent in Guengat in South West Brittany in September 2011. It was originally written for Slow Travel and Pauline has asked me to enter it on Slow Europe.
This was week one of the trip. Week 2 covering Morbiham (Plumelec) is
here
. Week 3 covering northern Finistere(St Thegonnec) is
here
.
There is general information about Brittany
here
.
Michael's web site of pictures from the holiday is
here
.
Guengat and the surrounding area
We had a week booked in a gite just outside Guengat. It is a typical small Breton village built around the church and Marie. It still has a bakers and chemist shop (identified by a bright green neon cross). There is a small market on Thursday afternoons behind the Marie. The evening we visited, there was a fish monger, a stall selling cider, an old lady selling honey, a vegetable stall, fruit stall, bread stall, cheese, butcher and charcuterie.
On the Quimper road, set in a carefully tended garden, is a small fountain with a niche containing a statue of St Fiacre, the patron saint of Guengat. The water flows into a lavoir.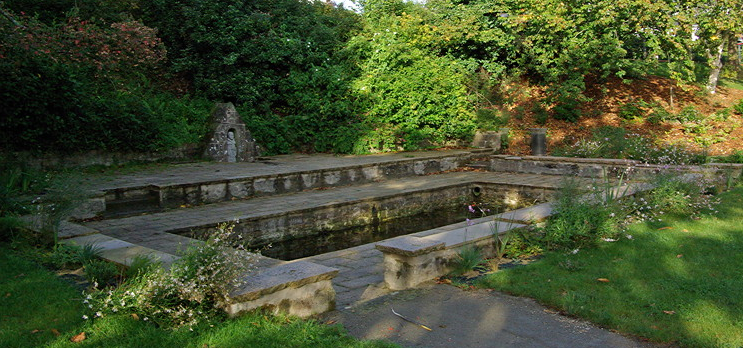 Guengat church doesn't feature in the guide books but is a typical example of a simple C16th parish close with wall, small triumphal arch and calvary. It is a big church with a tall and very thin Kreisker spire. The two side aisles have a series of dormer style windows which make the church look as if it has four aisles.
Inside it has a blue painted roof in the choir. Below is a carved and painted wooden frieze with animals, a woman pulling beer, soldier, farmer, a head being eaten by two crocodile like animals. All had great character and we kept saying 'have you seen…'

There is a large tomb of a lord and lady in one corner. Some believe this is the tomb of St Alouarn and his wife. There is a small glass exhibition cupboard with communion plate, and C16th processional cross and a a large and elaborately carved wall cupboard. The side altar was splendid with gilt paintings.
On the road between Guengat and Plogonnec, there is a sign to CHAPELLE ST THÉGONNEC. This is down a narrow lane past a farm. There is a small parking area and the chapel is reached along a grassy through the trees. It is in a lovely setting in a grassy clearing among the trees. It is a plain, small granite building with two doorways.
This is one of the few churches that has a fountain inside it. A spring feeds into a small fountain in the nave which has a small pool for ablutions. It then ran across the floor and out of the opposite wall before running off down the bank.
The church looks unloved and unused. The walls are suffering from damp. It is plain and simple inside. There is no pulpit and two carvings of saints on either side of the altar, (one is St Thegonnec) and a statue of the Virgin. There were no pews. There were two tables with tourist information and stacked up chairs. It is a lovely setting and well worth the detour to find it.
PLOGONNEC is a larger settlement with a large SuperU on the Guengat turn. This had an excellent range of fresh food and was a nice place to shop. Plogonnec has a bakers in the main square but the butcher's shop had a notice saying it was shutting from 10th September. We didn't know whether this was for the winter or permanently.
Plogonnec church is C16th and has a triumphal arch. It has a massive stone tower with open belfry with two bells. On either side are smaller towers with stairs. This again is big with three large altars across the east end with gilt carvings and several side altars. The chancel roof is painted blue with a decorative painted border and ribs. The windows are C16th stained glass. There are carvings of saints on the walls and pillars as well as processional banners.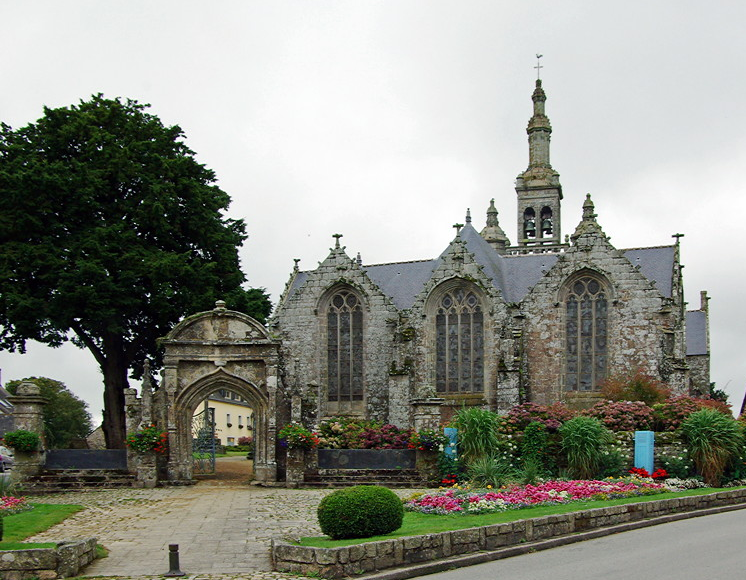 Between Plogonnec and Le Juch there is a turn off signed to CHAPELLE ST PIERRE. It was built in 1608 and is on the edge of Bois de Nevet, a large area of deciduous and coniferous woodland with a lot of footpaths.
There was an old house next to the chapel but no other settlement. It had been a large and important building with carved doorway and separate round tower giving access to the belfry. The windows are now blocked with wood and it looks very shut.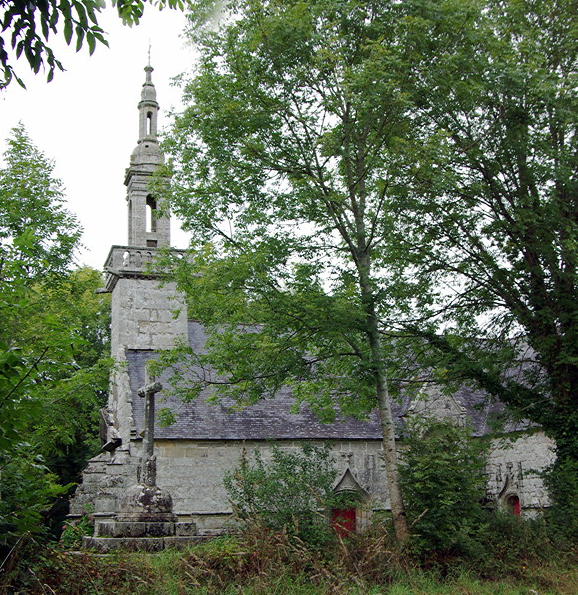 LE JUCH must once have been an important settlement but is now a shadow of its former self. It has kept a small bar but no other shops. There are many nice old houses including a very large building at the top of the street which used to be a bar and epicerie but is now long shut. It must have been important in its time as it had a splendid fireplace and assorted buildings and sheds behind.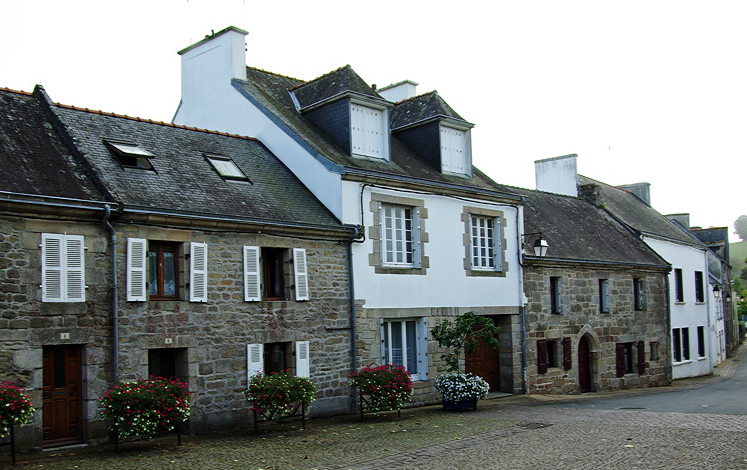 An old gentleman came across with a key to let us into the church and found an English leaflet for me. He enjoyed pointing out all the highlights including St Michael and the devil and photographs of the Pardon. It is light and airy inside the church with slender pillars. There are nice stained glass windows and large altars with statues on either side. There is a carved pulpit and a statue of St Sebastian in the back corner with his body pierced with arrows.
https://www.sloweurope.com/community/media/le-juch-church.2731/
Last edited: