The Genal Valley of the Serranía de Ronda in Málaga, Andalusia, Southern Spain
The quiet and restful Genal Valley has a history that goes back hundreds of years. It is located in La Serranía de Ronda (the Ronda Mountains) just to the south of the bustling white village of Ronda, near the Mediterranean coast in southern Spain.
The Genal Valley is sandwiched happily between two national parks, La Sierra de las Nieves and Grazalema, and it is commonly acknowledged as the greenest part of Andalusia.
The valley is divided into upper and lower sections, with the
Alto Genal
(upper valley) having seven
pueblos blancos
(white villages) while the
Bajo Genal
(lower valley) has eight.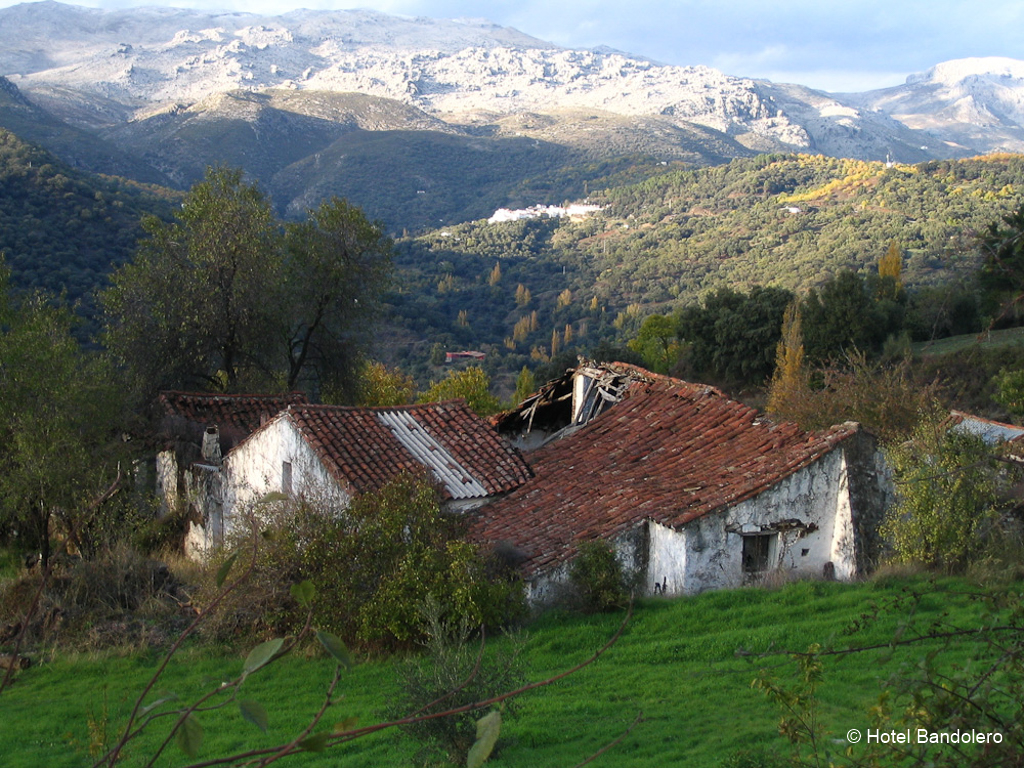 Alto Genal, Juzcar - Moclon.
Getting to the Genal Valley
There are two main roads that access the Genal Valley:
A369, known locally as the Ronda - Algeciras road, accesses both the lower and upper valleys.
A397 (formerly known as A376), commonly referred to as the Ronda - San Pedro road accesses the upper valley only. Following the A397 up the mountain from the Costa del Sol town of San Pedro de Alcántara, the exit for the Alto Genal is 12km before Ronda.
The A397 is a winding mountain road with plenty of traffic, especially in the summer months. It will repay you with the fantastic views of the Spanish coast, Gibraltar and, on a clear day, the mountains of North Africa. Following the turn for the Genal Valley, you see six of the seven white villages of the upper valley.
Go to the Genal Valley to Experience the Natural Beauty
Because the Genal Valley is still not widely known nor developed, it is not heavily traveled; it is therefore a recommended destination for those looking for an authentic experience in a normally peaceful and quiet, traditional, Spanish environment.
In December, the flower blossoms begin with the wild almond trees sprouting beautiful pink or white flowers which last until early February. And then from March until June, the valley is filled with wild flowers. As many as 2,000 species come to life during springtime with different blooms appearing almost daily.
The Alto Genal is also chestnut country; normally starting in May, the valley fills with the pungent odor of the yellow chestnut flowers in bloom. And then in autumn, there is a swath of autumnal colors burning across the valley as the chestnut leaves pass through their seasonal change after the harvest.
The Genal Valley is a great destination for motorcyclists, cyclists, walkers, hikers, bird watchers, star gazers, rock climbers, painters, photographers, writers and nature enthusiasts generally.
All the villages are connected by marked walking trails offering spectacular views and possible bunny rabbit or boar sightings.
For bird watchers especially, this area is a must as it is located on the north-south corridor of the annual bird migrations. It is not unusual to hear owls hooting, wood-peckers pecking or soaring griffin vultures, golden eagles, falcons or other birds of prey above the mountainous terrain.
With all the natural subjects to paint (ruins, mountains, rooftops, churches, valleys, villages, trees, flora, etc.) and stunning changing light, painters could spend endless days painting with endless subjects.
For those interested in local culture, all of the valley villages have annual fiestas, romerias (a traditional Andalusian outdoor festival involving singing, BBQ's, dancing, horses and campfires) and Semana Santa (Easter and Holy Week) festivities, August being the month of fiestas for the Alto Genal.
Alto Genal, Igualeja.
La Serrania de Ronda (the Ronda Mountains)
The wider Serrania de Ronda offers a selection of vineyards producing fantastic red, white and rose wines. Wine production began in the Ronda area with the Romans; the area was once an ocean of vines but was wiped out in the 19th century by Phylloxera along with the rest of Europe's vines. While wine production had a lull for a number of years, it began again in the 1960s and continues today with a healthy wine product that is highly regarded.
There are also two natural parks in the Serrania which are great for walking, La Sierra de las Nieves (a Biosphere Reserve, designated by UNESCO) and Grazalema Park, which stradles Malaga and Cadiz provinces. Both offer plenty of bird life, flora and the
pinsapo
, a Jurassic age tree which can be found in only a couple of location in the whole world, this is one of them.
Bajo Genal (Lower Valley)
Bajo Genal villages: Gaucín, Benarrabá, Algatocin, Benadalid, Benalauría, Atajate, Genalguacil, Jubrique
The Bajo Genal has eight villages which are all located along the Algeciras – Ronda road. Traveling north from the coast, one first comes to Gaucín, the most southern village on the A369 and then on to Benarrabá, Algatocin, Benadalid, Benalauría and finally Atajate; Genalguacil and Jubrique are located on the eastern part of the valley accessible via Algatocin.
All these villages are a bit bigger than the villages of the Alto Genal and have their own unique charms. Some offer museums and artworks, all offer at least one place to stop for a drink and a tapas or a meal and some offer accommodation.
Genalguacil, in particular, is interesting due to art displayed around the village. There is an annual art fiesta sponsored by the village hall supporting artists who are invited to come for a week's workshops; they create art in ceramic, wood, glass, oils, and other mediums which is then left in the village on display year round.
Bajo Genal, Benadalid.
Alto Genal (Upper Valley)
Alto Genal villages: Igualeja, Pujerra, Parauta, Cartajima, Júzcar, Faraján, Alpandeire
From the main road into the Genal Valley you see six of the seven white villages of the Alto Genal (upper valley); only Igualeja is not seen from the road. All have populations of less than 300 and all have very traditional lifestyles. Mobile vendors still pass through these villages on certain days of the week selling a wonderful variety of wares: bread, fish, garlic, live poultry, homemade cheese, fresh vegetables, melons among an orchards worth of fruit, as well as fabrics.
Júzcar boasts La Fábrica de Hojalata (the Tin Factory). This was the very first factory built in Spain which operated from 1731 to 1901 producing tin for the king's armory, ruins of which can still be viewed today.
Alpandeire was once home to the much revered Friar Leopoldo, a local friar who lived out his life in a monastery in Granada but is still admired by many in the Serrania de Ronda; it is not uncommon to come across his portrait in any number of shops, bars and restaurants in Ronda and the surrounding area.
Along the boundary between Cartajima and Júzcar lies another area which is worth a visit, Los Riscos (The Cliffs). It is a wild area in which millennia of winter winds and rains have worn the limestone of the terrain into a series of wild natural sculptures. They are worth seeing as a reminder of how desolate and remote this area was in the days before paved roads and the automobile arrived and of the days when a handful of hardy Berber Arabs made their way into the mountains from the coast on mule and on foot and decided to stay.
View of Alto Genal valley.
Hotel Bandolero and La Bodega del Bandolero
Lodgings and restaurants are available in varying shapes and sizes throughout the valley, be it a hotel,
casa rural
(country house) or other accommodation, bar or restaurant.
Hotel Bandolero
in Júzcar, a two star hotel and restaurant opened in October 2004; currently owned and operated by its American and Spanish proprietors, it offers eight spacious double rooms with sweeping views of the valley and theme holiday packages including a Ronda Wine Tasting weekends, Relaxation packages, Painting Workshops Holidays and the occasional varied themed seminar.
Its restaurant, La Bodega del Bandolero, offers creative tapas, country cooking and tempting delicious homemade desserts, all prepared by a Cordon Bleu trained chef, all of which may be enjoyed in the restaurant, bar, poolside or on the terrace.
The hotel comprises the restaurant and bar, terrace, an outdoor swimming pool & terrace, lounge/library, eight spacious double rooms, all decorated in a rustic style and offering creature comforts of country living. WiFi and internet access are also available.
Hotel Bandolero, Júzcar.
Hotel Bandolero is the perfect location from which one can explore the Serranía de Ronda and the various surrounding points of interest as Júzcar is at the cross roads for many interesting points in Andalusia.
Bustling historic Ronda is 30 minutes away with its historic Moorish old town, museums, tapas bars, restaurants and incredible sweeping vistas.
Historic Seville and Jerez de la Frontera, home to several bodegas producing famous sherries and other liquors, are a short two hour drive.
Gibraltar and Tarifa are less than two hours.
The well publicized Costa del Sol with its beaches and glamorous Marbella is only one hour from Júzcar.
In the Guardiaro Valley, neighbor to the Genal Valley, lies the Cueva de Pileta (Pileta Cave), an ancient find with drawings which include goats, man, and a dolphin dating back 25,000 years and has some fascinating stalactites and stalagmites.
Locally based outdoor adventure companies offer services such as rappelling in Júzcar in the Rio Genal, paint ball, archery, mountain bikes, guided walks and hiking, guided bird watching, guided mountain bike tours, horseback riding, hot air ballooning from Ronda, amongst others.
Other Accommodation
Hotel Los Castaños in Cartajima is at the higher end with five luxury doubles, a roof top terrace, sweeping valley views and an in-house residents only restaurant.
La Casa del Llanete in Alpandeire offers bed and breakfast rates as well as creative and therapeutic holidays by its English owners.
There is a camping site in Júzcar, Nuestra Virgin de Moclón, alongside the Genal River for those on a budget opened in the warmer months with a bar/restaurant and a wonderful natural swimming site in the river itself.
Hotel Banú Rabbah in Benarrabá has 10 rooms, a restaurant and a good size swimming pool open in the summer months.
Hotel Low Taha Mountain in Jubrique offers eight double rooms, has a restaurant and offers trekking and mountain cycling excursions.
Other Restaurants
Restaurant Anafe in Parauta offers a range of game meats while Bar Torricheli in Júzcar offers a variety of tapas as well as combination plates.
Restaurant Mesón La Molienda in Benalauría is located in a former an olive mill which is now a museum within the restaurant with fantastic views of the Genal Valley.
La Mesón la Sierra in Atajate also offers combination plates and tapas.
La Casa Grande de Alpandeire has a small charming restaurant and bar offering lunch and dinner daily.
Google Map
More Photos
by David Nuyen from
Hotel Bandolero
, June 2008
Ivan and I have been running Hotel Bandolero since 2004 and year on year our client base has been increasing, with both new and returning guests. People stay with us for a number of reasons, some just happen upon us, others have sought us out due to our location and the photos of food on our website, some arrive here to get away from their urban life for a day or two or seven. Many come to walk and to see the birds and wild flowers. We just had a couple here who love wild flowers and told us they discovered two flowers in the next village that they had never seen before. So quite an exciting find our little valley is!.
Other people come back to the Bandolero again and again because of the charm of the hotel, the comfortable rooms with fantastic views and of course Ivan's fantastic cuisine, especially his desserts. At Hotel Bandolero we give you an escape with a fantastic kitchen and good wines in a peaceful location, but with a lot of interesting activities.
Why not include a visit to El Bandolero and Júzcar on your next trip to Spain? We'd love to see you and you know the Bandolero is waiting for you ... in the greenest part of Andalusia!