The Bagneux Dolmen (
Le Dolmen de Bagneux
) is the largest dolmen in France, second largest in Europe (the Spanish dolmen in Antequera, near Malaga, is bigger). This dolmen is HUGE and worth visiting for that alone, but its location makes it even more interesting. The city has grown around the dolmen, so it is tucked into a walled garden, surrounded by other buildings.
A dolmen is a single-chamber megalithic tomb (also called portal tomb, portal grave or quoit), usually consisting of three or more upright stones supporting a large flat capstone. Most date from 4000 to 3000 BC (Neolithic). They were usually covered with earth to form a barrow. In many cases that covering has weathered away, leaving the exposed dolmen stones.
Location
: France - Pays de la Loire - Maine-et-Loire - Saumur
When we went looking for this dolmen, we drove to Bagneux, a suburb of Saumur, and followed signs to the dolmen. The dolmen is located on a side street. We parked on the street and rang the bell at the closed gate. The owner came out, collected the entrance fee, and let us into the back yard of the cafe. The cafe was closed when we visited - otherwise, you could see the dolmen from the cafe.
Website
:
Le Dolmen de Bagneux
Entrance to the dolmen.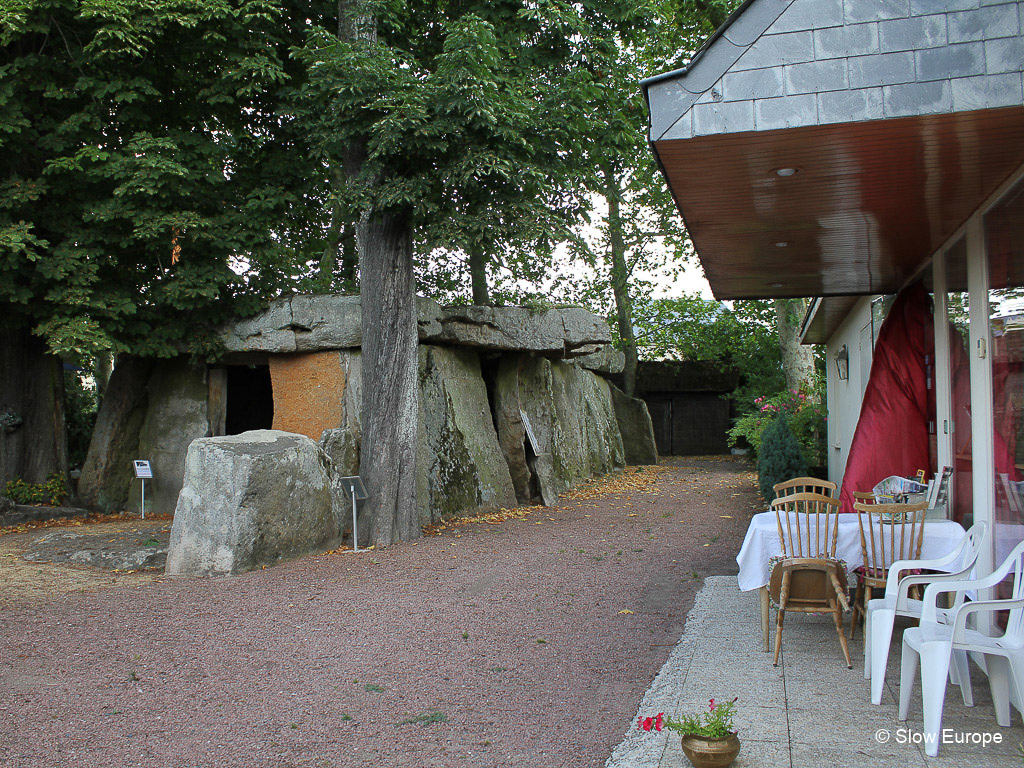 The dolmen is in the back yard of a building with a cafe.
Google Map
More Photos
Bagneux Dolmen (Le Dolmen de Bagneux) is the largest dolmen in France.