Fontevraud Abbey (
Abbaye de Fontevraud
) was founded by Robert of Arbrissel in the 12th century as a religious community dedicated to the Virgin Mary. Although Fontevraud housed both monks and nuns, its founder decreed that the order's leader would always be a woman. The Fontevrist movement steadily expanded within France as well as in England and Spain until its dissolution during the French Revolution. During its active period, Fontevraud Abbey opened its doors to many in need of sanctuary including reformed prostitutes, battered women, and lepers. In the early 19th century, in a sharp departure from its earlier history, the former abbey was converted to an infamous prison. Fontevraud is a UNESCO World Heritage Site.
Location
: France - Pays de la Loire - Maine-et-Loire - Fontevraud-l'Abbaye
Fontevraud is near the Loire Valley town of Chinon. Since 1975 the abbey has been a cultural center (Centre Culturel de l'Ouest) and is open to the public. When we visited Fontevraud art exhibits relevant to the setting were on display throughout the abbey.
Website
:
Abbaye de Fontevraud
Eleanor of Aquitaine, the widow of King Henry II of England, became a nun at Fontevraud. In the church, the grave stones of King Henry II, his wife Eleanor of Aquitaine and their son King Richard I of England are on display, but their actual "bones" were probably destroyed during the French Revolution.
The French author Jean Genet wrote about a thirty-year-old prisoner at Fontevrault in his novel "Miracle of the Rose" (Miracle de la rose), but it is not know if Genet himself was ever imprisoned there.
The distinctive Cook house and chimneys.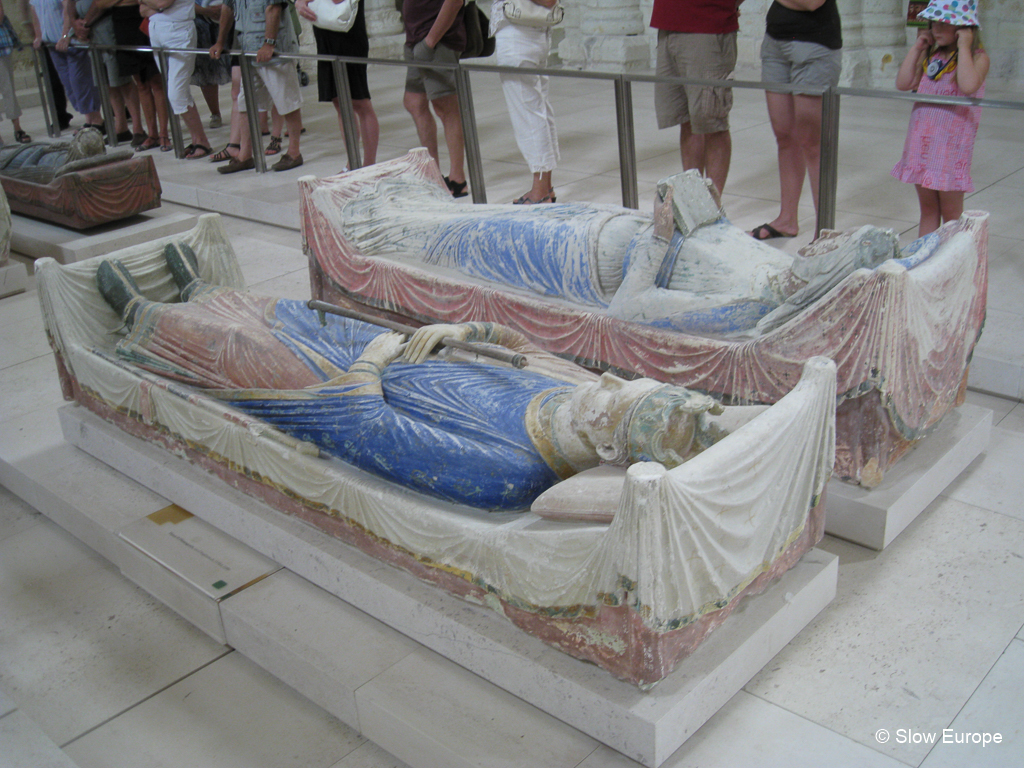 The graves of Henry II and Eleanor of Aquitaine, with their son Richard the Lionheart.
Google Map
More Photos
Medieval Abbey with the grave stones of King Henry II, his wife Eleanor of Aquitaine and their...