You will love the restaurants in Italy. Most are small, family-run places. Almost every meal is the best meal of your life. It would be easier to list the places where you had a bad meal, than to list where you had good meals.

Meals in Restaurants



Breakfast

You won't find a typical American breakfast in Italy. No pancakes or eggs benedict or waffles. No whole wheat muffins. The typical Italian breakfast is a cappuccino and a sweet pastry taken at a cafe.

Hotel breakfast rooms cater to the breakfast tastes of many nationalities: Italians (sweet pastries, cappuccino), Germans (bread, butter, jam, meat, cheese, coffee) and Americans (dry cereal, yogurt, fruit). I think the British fit into one of those groups. Some hotels will even have some egg dishes.

Lunch

Traditionally in the countryside and small towns, lunch is the big meal. Restaurants are usually open for lunch between 12:30pm and 2:00pm and lunch can take over two hours. It is best to arrive between 1:00pm and 2:00pm. If you are seated and order before 2:00pm, you can linger as long as you wish, but if you arrive after 2:00pm, you risk being turned away.

If you want a quicker, lighter lunch, stop at a cafe for a

panino

(sandwich).

Note that most restaurants do not serve pizza for lunch. This is offered in the evenings, for a light dinner. In the more touristed areas you will find pizza at lunch time, but traditionally it is not a lunch offering.

Sunday Lunch

Sunday lunch is a wonderful event in the countryside. We like to plan our Sunday lunches ahead of time, maybe save a visit to a favorite restaurant for a Sunday lunch. You will see large Italian families out together. The meal does not need to be rushed, you spend the afternoon eating. Many country restaurants have beautiful, shaded, outdoor areas where you can eat and enjoy the scenery.

Dinner

Most small restaurants have only one sitting for dinner. You can reserve for any time between 7:30pm and 9:30pm (maybe even later) and they will put your name on the table and it will wait for you. In some restaurants in the big cities they have two seatings: an early one at 6:30pm and a later one at 9:00pm. Dinner can take over two hours.

Dinner is the same type of menu as lunch, except that if a restaurant serves pizza, it is usually available only at dinner time.
Antipasto - Bruschetta at a restaurant in Tuscany.
Closing Day
Restaurants in the countryside and in small towns close one day a week. Most are family run and this is their day off. The closing day is posted outside the restaurant and guidebooks note the closing day. This is very important to remember; we have driven a long distance to a place we were looking forward to trying only to find it closed (and then to see that the closing day was noted in our guidebook).
Reservations
It is best to make reservations ahead of time for dinner. Make them in the morning before you plan to go, or the day before. This assures that you will get a table and is a gesture of respect to the restaurant owners.
If you arrive at a restaurant without a reservation, the restaurant may appear to be empty, but still they might not seat you. This is because every table is reserved. Most country restaurants take only one reservation per table for the evening - they do not count on turning a table over during the evening. If you make a reservation, the table is yours for the evening, which is good, because dinner at a country restaurant can easily take two to three hours.
Understanding the Menu
Nearly every Italian lunch or dinner menu has the following five sections:
Antipasti: appetizers (singular is antipasto). This is usually served very quickly after you order. Many items will be vegetarian.
Primi: first courses (singular is primo). This is usually soup, pasta or risotto dishes. Many will be vegetarian.
Secondi: second courses (singular is secondo). This is the meat section. Some restaurants also include fish dishes here. This course does not come with vegetables; those are ordered separately in the contorni section. In porcini season (usually June or the fall), fresh porcini mushrooms are grilled and served as a secondo. Many restaurants now offer a vegetarian secondo (grilled vegetable plate, vegetable tart). Sometimes you can find an omelet in this section.
Contorni: side dishes (singular is contorno). These are usually vegetables: potatoes, spinach, salad, etc. These are served on separate plates and accompany the secondo. You will want to order one or two of these to go with your secondo.
Dolci: desserts (singular is dolce).
All menus in Italy are divided into these sections. Even Chinese restaurants divide their menus into these sections. In the evenings, some restaurants will have a pizza section.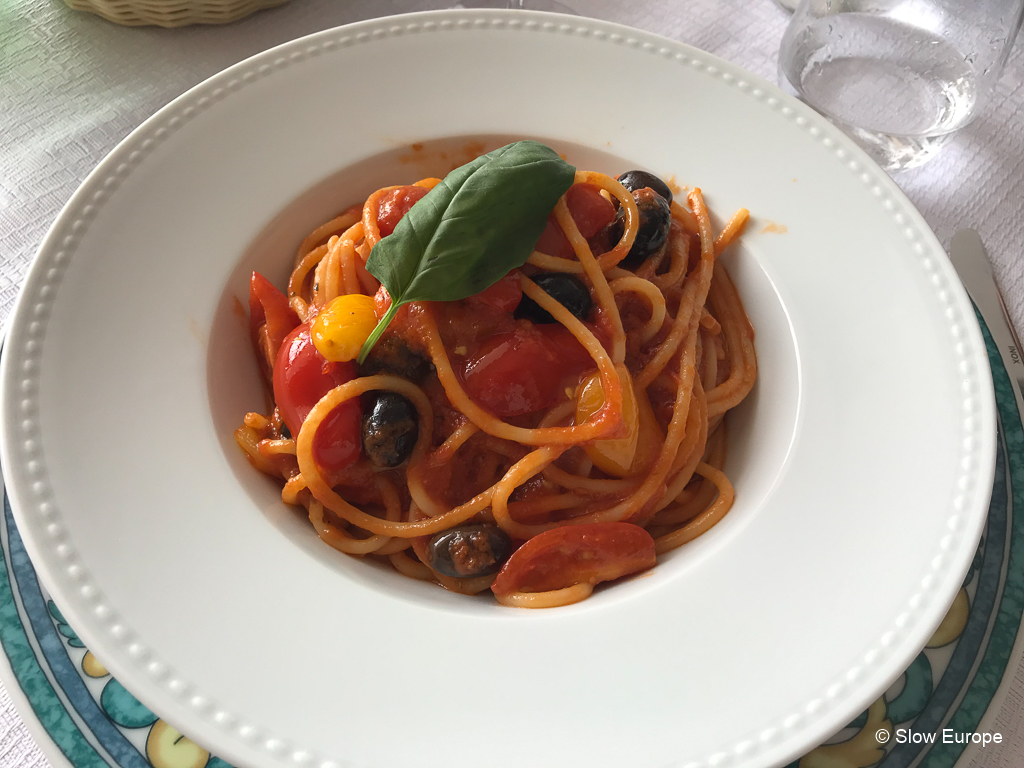 Primo - The perfect plate of pasta, in Campania.
How to Order
Do not try to flag down a waiter when you are ready to order. The waiter will come to you when they are ready to take your order.
Order your water (with or without gas) first. It is acceptable to ask for tap water, but you will notice that most people order bottled water.
Next is the wine. You can order wine from a wine list, or just ask for the house wine (by the glass, 1/2 liter or a full liter). Waiters in Italy are usually well versed about wine and can advise you on wine choice. It is acceptable to not order wine.
Then your meal. When you order your meal, order by section of the menu. First the
antipasti
, then the
primi
, then the
secondi
and
contorni
. Dessert is ordered at the end of the meal.
If you are ordering two
primi
(maybe for the vegetarian in your group), make it clear which dish is served as the first course and which is the second course. There is less confusion if you order each course in the correct order.
Some groups like to wait until they have eaten their
primi
before ordering the secondi.
You do not have to order each course, but in many restaurants the courses are small, so it is not an overwhelming amount of food if you have an
antipasto
,
primo
and
secondo
. However, if you are not that hungry or do not have a large appetite, it is perfectly acceptable to order only one or two of the courses.
After the meal, you order dessert, espresso and any after dinner drinks (
digestivi
, singular is
digestivo
).
How the Food will Arrive
Bread is either already on the table or arrives immediately. Grissini, packaged crispy breadsticks, may also be on the table. Your water and wine also come as soon as you order.
Your
antipasto
usually arrives quickly, but the other courses will be slow to arrive - time is needed for the restaurant to prepare your excellent meal. Think of going out for dinner as being your main activity for the evening. You will probably spend 2 or 3 hours in the restaurant. There will be a wait between the
antipasto
and the
primo
. The
primo
arrives for all people at the same time. There will be a wait between the
primo
and the
secondo
. When the
secondo
arrives, your
contorni
(side dishes) also arrive.
When you are finished, the waiter will come to take your dessert, coffee and after dinner drinks order. The coffee and dessert are not served at the same time; dessert is served first, then coffee after.
What About the Bread?
The bread sits on your table, on a plate or in a bread basket, from the moment you sit down. The table is set with beautiful cutlery, tablecloth and napkins, but no bread plate, because it is not the custom to snack on bread before the food arrives and, as I learned recently, you place your bread on the tablecloth by your plate. Wait until a course is served, then use the bread for scooping up food and for dipping in the sauces. If there are packages of Grissini breadsticks, we snack on them before the food arrives.
Butter is not served with the bread and you will not get a plate of olive oil for dipping the bread, as you find in restaurants in America. You can ask for butter, but this is not the custom in Italy, and you may be refused. The kitchen may not have butter that can be nicely put onto a plate for serving. Some Italian restaurant owners have told me that Americans always ask for butter with their bread, and then they shake their heads in dismay. Besides, who wants to get full on bread and butter, when you have several courses to come!
The Count
Sometimes I feel I will be ordering breakfast before the waiter brings the bill. They don't rush you! When you are finished, ask for the bill. Don't assume they will bring it after you have finished your
digestivo
. In Italian you ask for
il conto
(the count).
There will be a cover charge,
coperto
(cover) or
pane e coperto
(bread and cover), on the bill. Don't argue about this, it is a normal charge and will be one or two Euro per person.
The Tip
Check your bill. It may indicate that a 10% tip has been added to the bill. This might also be listed on the menu. If so, that is it - no need to tip.
We always leave a 10% tip, because I think it is expected of tourists, but many will tell you just to round up, leaving a few euros.
This article was written in 2000 for the slowtrav.com website. I reviewed it and updated it, but little has changed. These days you find more pizza for lunch in tourist centers, and it is more common to order two courses, skipping primo or secondo.
More Photos
Excellent photos of Italian meals from
@Tim W
.
My photos of different meals.
Sample Menu from Ristorante Daniela
This is a very old menu - nearly 20 years old - but I add it because I typed the whole thing out 20 years ago so it is very readable. And I bet their current menu is not much different.
Ristorante Daniela, Piazza Matteotti, 7, San Casciano dei Bagni (Tuscany)
On our September 2002 trip we a Sunday lunch at Ristorante Daniela in San Casciano dei Bagni, in southern Tuscany. This is an excellent restaurant in a lovely, small town. They print out their menu for each day, so I was able to bring home a copy. They have the same menu in both Italian and English. This is the exact menu and prices with both the Italian and the English.
Italian Menu​

Price

English Menu​

MENU di Settembre 2002
EURO
MENU September 2002

ANTIPASTI (APPETIZERS)​

Pure di patate tartufate con vongole veraci
10.00
Potato puree with truffle sauce and Mediterranean clams
Tonno fresco marinato con fagioli e cipolla
8.00
Marinated fresh tuna salad with beans and onion
Antipasto della casa (bruschette, verdura fritta, sformato)
8.00
Mixed antipasto of the House
Carpaccio di vitellone Chianino con zucchine grigliate
9.00
Chianina beef Carpaccio with grilled squash
Crostone con pomodoro, aglio, basilico e olio extravergine di oliva
6,00
Toasted bread with tomato, garlic, basil and olive oil
Pate di fegato con pane alle noci
8.00
Liver Pate with toasted wall nut bread
Pecorino "Daniela" (pecorino gratinato con tartufo)
9.00
Baked pecorino cheese with truffles
Prosciutto e salame di cinghiale
8.00
Wild boar ham and sausage
Terrina di fagiano con pure di castagne
9.00
Pheasant terrine with chestnut puree

ZUPPE (SOUP)​

Minestra di farro
6.00
Bean soup with spelt
Ribollita
6.00
Traditional Tuscan vegetable soup
Zuppa di cipolle
6.00
Silvestro's onion soup
Zuppa di funghi misti e porcini
10.00
Porcini mushrooms soup

PRIMI (PASTA)​

Tagliolini con astice, vongole veraci e pomodoro fresco
10.00
Tagliolini with lobster, clams and fresh tomatoes
Correggioli all'aglione
9.00
Home made pasta with tomato, garlic and bell pepper
Gnocchetti verdi con verza e tartufo
10.00
Green gnocchi with Savoy cabbage and truffles
Ravioli di ricotta con olio cacio e pepe
9.00
Home made pasta ricotta stuffed, with olive oil, pecorino and pepper
Spaghetti alla carbonara
9.00
Spaghetti with bacon, egg, parmigiano and pepper
Tagliatelle col ragu di anatra
9.00
Tagliatelle with duck ragu
Tagliolini con funghi porcini
10.00
Tagliolini with Porcini mushrooms
Tortelli di patate con ripieno di piccione
11.00
Potato home made pasta stuffed with pigeon

SECONDI (MAIN COURSES)​

Pescespada marinato ai ferri
12.00
Grilled marinated fresh swordfish
Agnello "Daniela"
13.00
Pancooked lamb with tomato, rosemary, garlic and bell pepper
Coniglio ripieno di Pate di fegato al forno con giardiniera (25 minuti)
13.00
Baked Pate stuffed rabbit with ratatouille (25 minutes)
Cosciotto di pollo farcito alla salvia fritto
11.00
Deep fried sage stuffed chicken leg
Filetto di vitellone Chianino ai ferri
16.00
Grilled Chianina beef filet
Funghi porcini in padella
10.00
Sauteed porcini mushrooms
Millefoglie di melanzane con pomodoro, pecorino e origano
10.00
Eggplant pie with tomato, pecorino and oregano
Petto d'anatra saltato con carciofi e finocchio selvatico
14.00
Sauteed duck breast with artichokes and wild fennel seeds
Salsiccia di maiale fatta in casa ai ferri con insalata di finocchi
10.00
Grilled home made pork sausage with fennel salad

---

Assaggio di pecorini stagionati con gelatina di cotogne e vinsanto
9.00
Selection of pecorino cheese with sweet wine
Menu per i piu piccoli: gnocchi verdi con pomodoro; hamburger di Vitellone Chianino con patate fritte
13,00
Child MENU: green gnocchi with tomato sauce and hamburger with fries

---

MENU della Casa: assaggio di zuppe, bruschette, tre primi (solo tutto il tavolo; bevande escluse )
16.50
HOUSE MENU (soup tasting, house Appetizer, pasta tasting) (Only for the whole table - beverages excluded)
MENU degustazione: bruschette miste; gnocchi verdi con verza e tartufo; agnello Daniela; torta al cioccolato (solo tutto il tavolo; bevande escluse)
19.50
Tasting Menu: Mixed bruschette
Green gnocchi with Savoy cabbage and truffles, Pancooked lamb with tomato, rosmary and peppers, Chocolate tart with white chocolate (Only for the whole table - beverages excluded)
VISA MCARD EUCARD CSI BANCOMAT AMEX DINERS
List of credit cards accepted
SERVIZIO 10%
10% of the bill is added as the tip
Also on the menu, the wine list. Dessert menu was separate. No separate list of vegetable side dishes (contorni) as you see on most menus in Tuscany.
Last edited: